What does Pride mean to you? A party? A time to get drunk and dress scantily clad in the streets? Perhaps it's all of these. But it is also so much more. A brief history about just how far we have come.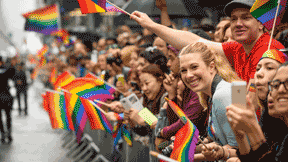 In the late 1960s, Los Angeles took to the streets, like a lot of America did, for the women's movement, anti-war rallies, and of course for LBGT rights. It has been quite the battle over the years as the power in politics has changed hands, over and over again.
Unfortunately the threat of rights and violence is still prevalent today.
In the Sixties to be gay meant you had a mental illness and were considered immoral human beings. Same-sex relationships were considered illegal and you could be locked up for kissing in public or even holding hands. People's lives were destroyed. Coming out wasn't even a possibility, so men and women were forced to live secret lives and in shame, left feeling dirty and disgusting, having to congregate in secret clubs, just to feel accepted.Most were rejected by their religion, places of work and friends and family.
The police used to constantly raid these underground venues, beat and drag the community out into the streets, exposing them to more hatred and violence.
Luckily, over the last few years the LGBT community have had quite a lot to celebrate in the US. Gay marriage finally being recognized in all 50 states, anti-discrimination laws were passed, thanks in part to the last administration.
And along with the British Consulate we have partaken in the Pride marches down Santa Monica Boulevard along with 50+ other floats recognizing and celebrating how far we have come, in regards to — equality. We had the big double decker bus float, keeping it typically British, First year we had volunteers dress as traditional British Characters, The Spice girls, Mary Poppins, etc.
Last year was a tie-in with the Absolutely Fabulous movie, with quite a number of drag queens dressed as the iconic duo. This march was clouded by the tragic events at the nightclub "Pulse" the night before and a planned bomb scare at our very own march. This year the parade organizers instead decided to combine forces with other organizations and create the #resistmarch including Black Lives matter and the successful women's march earlier this year, to create one of the largest marches LA has ever seen. Taking place on Sunday and starting at Hollywood and Highland and marching to West Hollywood.
So who is invited to take part? Anyone who believes America's strength is its diversity! People just like you who care about human and civil rights! Invite your friends, your family, everyone! Visit www.resistmarch.org to see how you can get involved.
Last weekend, we at the UKares charity were invited to the British Home in Sierra Madre, where UKares executives Marina Paganucci and Adam Beach presented the home with a check of $3000 to help fund a new recreation area and fix a lot of the paving around the site, to make it easier for the residents to get around and enjoy their days in the sun. So a big thank you to all of you who have made donations to Ukares Foundation over the past two years to make this possible.
We have a lot of fun events happening and we look forward to inviting you to some events including our 10th anniversary party, – Eileen and I are in the throes of planning and will let you know the details soon – so stay tuned and have a wonderful week ahead and remember to have rights is a privilege and to protect them is our duty!
Cheers
Craig Young