Exclusive interview with author Katie Hickman about her new novel, in which a rich merchant returns to Jacobian London with a traumatized wife rescued from a Sultan's harem
By Gabrielle Pantera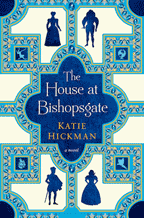 "I have always been fascinated by the allure of strange houses, and by their effects of the people who live in them," says The House at Bishopsgate author Katie Hickman. "Imagining this house, which becomes almost like a character in the novel, was one of the joys of writing this book."
In 1611, Paul Pinder and his bride Celia Lamprey arrive at their home at Bishopsgate. It had stood empty for almost ten years and must be restored to its former glory. Paul, a rich merchant, was the British Ambassador in Constantinople. He brings the Sultan Blue diamond home with him. It seems to have magical powers.
Celia had been kidnapped and forced into the harem of the Great Sultan. Paul got Celia back and still wanted to marry her. Frail and traumatized by her experiences in the harem, Celia is unable to cope with the management of the house and staff. Paul arranges for her good friend Annetta to join them. She arrives to find the widow Frances Sydenham has insinuated herself into the Pindar household. She seems to have a spell on both Celia and Paul. And, Paul's brother Rafe is always after something.
"This extraordinary mansion actually existed in real life," says Hickman. "It was built by Paul Pindar in 1611 when he came home from the Orient to showcase his collection of exotic furniture, treasures and jewels. Its oak carved front became a famous sight. That is now preserved in the Victoria & Albert Museum in South Kensington." The house was demolished in Victorian times to make way for the new railways. Liverpool Street Station was built on its site.
Hickman's research for the book ranged from cooking manuals to Shakespeare plays, to seventeenth century treatises on garden design and ghost stories.
"The early seventeenth century, just after the death of Elizabeth I, when King James I and his Danish wife, Queen Anna, came to the throne, was a time of huge cultural innovation and energy. I always use the London Library and the British Library. But I also like to look at real things, so I used the brilliant new Renaissance galleries at the V&A and the Museum of London for visual reference. It was surprisingly difficult to recreate Jacobean London, because so little of it is left. Nonetheless, a real treat for a historian."
The House at Bishopsgate is the third book in a trilogy, after The Aviary Gate and The Pindar Diamond. The three novels took more than ten years to write.
"I was lucky enough to do an incredible amount of traveling during the writing of all three books," says Hickman. "When it came to The House at Bishopsgate, I found myself having to focus very intensely on my own home town, London itself, which was a wonderful experience. I live in Southwark, one of the most ancient parts of London. It made me look at my own surroundings with totally new eyes. Bishopsgate Without, the area which was beginning to spring up outside the Bishop's Gate on the north side of the city walls, was a thoroughly modern suburb in 1611. Home to a number of elegant new houses built by the newly rich merchant class."
The three novels are based in Constantinople, Venice, and Jacobean London.
"The original idea was in fact one of my characters," says Hickman. "A wonderful maverick and libertine called John Carew. He acts as a cook and companion to Paul Pindar, the Levant Company merchant around whose fortunes the novels revolve. In the first novel, The Aviary Gate, I was left with a feeling that Carew had never really had his moment in the sun, so to speak. It was to give voice to him and his amazing adventures that I wrote the House at Bishopsgate."
Hickman is currently writing a history of British women in India. "My great interest is in the early women who traveled there, from about 1600," says Hickman. "Their lives were much more sex and drugs and rock'n'roll than we have been led to believe."
     The House at Bishopsgate by Katie Hickman, Kindle Edition, Hardcover: 448 pages. Publisher: Bloomsbury USA. May 16, 2017. Language: English, ISBN: 9781608199457 $28.00