The good news winging its way to my ears is that 'To the Bone' the much-anticipated new film starring British actress Lily Collins (daughter of rock star Phil) will have its European premiere next month at the Ischia Global Film and Music Festival fest… Oo-er!
Collins will be on hand to accept the fests 'Rising Star' award at the Regina Isabella's outdoor theater by the sea.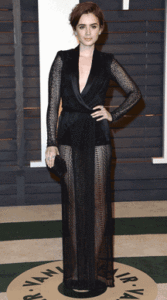 Co-star Alex Sharp will also be honored with Ischia's breakout actor award.
To the Bone, which originally debuted at Sundance and was picked up by Netflix, stars Collins as Ellen, a young girl with anorexia, with Sharp playing her confidante.
Keanu Reeves also stars as the doctor who challenges Ellen to face her disease head-on. Marti Noxon wrote and directed the film, inspired by her own struggles with anorexia. AMBI Group's Andrea Iervolino and Monika Bacardi produced alongside Bonnie Curtis, Karina Miller and Julie Lynn.
"To the Bone poignantly deals with a subject that affects so many young women in our society and highlights two very talented young actors — Lily Collins and Alex Sharp — who are indeed rising stars on the world stage," said the festival's honorary chair Mark Canton.
For those not yet in the know, Ischia is a picture perfect volcanic island situated in the Bay of Naples. The Ischia Global Film and Music Festival takes place July 9-16.
Tuttobene!