Our Brits in LA weekly column seems to be morphing in to 'Brits suffering in the UK', but please forgive me for writing about British events once again. Not only would it feel wrong to tell you about all the 'fun stuff' going on in LA this week, but I do know that our readers back home do take some solace in the fact that us expats still think, care and feel for them immensely.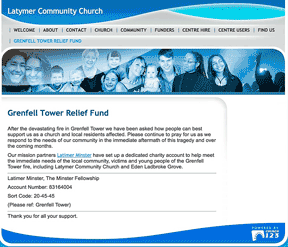 On Sunday, September 2, 1666, London caught on fire. The city burned through Wednesday, and the fire – now known as The Great Fire of London – destroyed the homes of 70,000 out of the 80,000 inhabitants of the city. But for all that fire, the traditional death toll reported is extraordinarily low: just six verified deaths. (quoted from www.smithsonianmag.com)
The Grenfell Tower death count has already doubled that and is expected to rise significantly. The onslaught of tragic events that have affected Britain in recent weeks are just incomprehensible. I'm sure I am not alone in trying to remind myself that if there was a scale of countries that are currently suffering, the UK would undoubtedly be very low down the list. Nonetheless, I think most of you would agree that it is only human to feel greater empathy with people or places that you are more familiar with; hence we are not quite as disgusted by Kentucky Fried Chicken as we would be if the 'C' stood for cat.
When I first read the headline 'Fire breaks out at Tower Block in North Kensington' my heart sank, as that is where my niece Cassie and her family reside. Thankfully they were safe, as they live in a block opposite Grenfell Tower. But not so lucky for her, as she and her young children could only stand back and be a witness to the horrific events unfolding, right from the 'comfort' of their home. If you grew up in a small town or on an estate you will know how tight knit the neighborhoods are and this goes for the residents in and around Latimer Road – all the kids go to the same schools, hang out at the local parks and community centers; even I in the role of 'Great Aunt' have been to the playground there a few times over the years.
I just can't begin to fathom the anguish that they are all going through, almost forced to watch helplessly whilst their friends and neighbors attempt to escape from the surreal 24 floor towering inferno. My niece said she still can't get the sound of their screams out of her head. Sadly at the time of writing this I have learned that one of her 12 year old sons classmates did not survive and there are still several of their friends missing.
Community spirit has yet again been the hero of the day, as less than 24 hours later the local aid centers had to ask everyone to slow down as they were inundated with donations. And a big up to Jamie Oliver who has a restaurant nearby and has offered free food and refuge to the all of the victims.
I am so proud and impressed by Cassie and her neighbours, who found the strength to work straight through the day by volunteering to sort the hundreds of donated items received.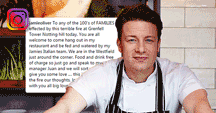 There are many posts going around on social media saying that 'no more donations are required', which is not strictly true, as the surviving residents have really lost everything. So please persist and make sure to check in at the weekend, as there will certainly be further requests. I asked Cassie to recommend a particular local charity and she suggested Latymer Community Church who have been a consistently active channel of support over the years – they have a fundraising page which you can access via the link: latymer.org.uk/grenfelltowerrelieffund.htm and you can donate from wherever you are in the world.
My shock and sadness has once more been tinged by fury and confusion. How could this happen? These recent tragedies could surely have been avoided? It appears to me that they are often the result of cut backs, neglect and bureaucratic red tape – just as in the case of the brutal London Bridge massacre, where not only did one of the attackers appear on a documentary called 'The Jihadi Next Door', but several news sites also reported that the City of London Corporation, (which owns London Bridge), was even asked about security barriers the week prior and a spokesman apparently responded that there were "no plans" for them. (!!)
I know first hand that fire safety is not a priority for council tenants. I grew up on a housing estate in West London and we never even saw a fire extinguisher in our block of flats, let alone an escape route from our top floor flat. We were even told that we could have a fire door installed but it would cost about £600, which just wasn't feasible for our low-income family. Bear in mind this was the council inflated price over 20 years ago, nowadays it can apparently cost 4 figures. So as you can imagine, it won't be a huge surprise to me if the blame ends up falling at the feet of the local council and the management company they appointed to look after tower. I do hope that some good will come out of this, at the very least that it will result in more stringent regulations so that people like my niece can finally live in a safe place just like the majority of our society are afforded.
If you have questions or comments feel free to drop us a line at BritsinLA@gmail.com
Stay safe out there… 
Eileen