Meet Kerry David from East Haddon, Northamptonshire who moved to LA in 1988 to pursue filmmaking.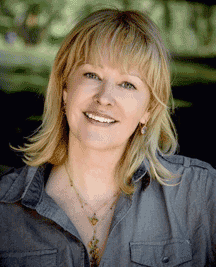 How did you wind up in LA?
I originally left my home in England for what was supposed to be a two-week backpacking trip around France, but got the travel bug and ending up spending several years roaming throughout Europe, New Zealand, and Australia. I only came to the US to renew my visa, with every intention of heading back to Oz ASAP. However, shortly after I arrived I got an offer I couldn't refuse: to join an all-girl band and spend the next chapter of my life singing, touring, and writing songs.  After that wild adventure, I joined the cast of a four-person rock play written by Rex Weiner and produced by Adam Ant and John Densmore, and then landed a job at Paramount Pictures, then for Tom Cruise and Nicole Kidman until I started my own production company – and decided to make LA my home.
What do you miss most from home?
I miss the British countryside.  Seems silly to say with all the beauty America has to offer, but I grew up on a farm, horse riding, surrounded by animals and I think my soul is tied to those rolling green pastures and country lanes.
What was your first impression of LA and has it changed since? 
When I first came to LA it was electric.  I was living with my uncle who was a confirmed bachelor and loved to be out and about, lived the rock and roll scene, The Rainbow, The Whiskey and The Roxy, were always on the agenda.  He built Harleys from the ground up and was basically just an all around awesome influence. He showed me HIS LA, the cool side!  I thought it was brilliant.  A place where literally anything could happen.
It's changed SO MUCH since then.  The traffic for starters. Then it was actually manageable.  At the weekend, you could ride from Santa Monica to Malibu along PCH in half an hour!  Now it's over an hour!  Melrose was a really happening street – it was the equivalent of King's Road in that you'd go there to see and be seen music and fashion were everything back then – and the stores were affordable and unique.  It was so vibrant.
What do you find the biggest difference is living here versus London? 
The biggest difference living here to living in London is that here the idea you can do anything you want to, and can succeed is prevalent – it's not so much in London.  There's a positivity and support system here that kind of propels you to succeed and backs your journey.  I didn't grow up with that belief or feel that was there for me in London, but here I knew I could do it.
Do you have a hidden gem in LA that you want to share with us?
I love going out to Saddle Peak Lodge.  I don't know if it's a hidden gem, but it's certainly a gem worth rediscovering if you haven't been in a while.
What would you suggest to others who are thinking about making the move here? 
I would definitely recommend moving here – but I'd temper the recommendation with try it out for longer than a two week vacation at first.  It takes a good two years to really settle into LA in my opinion and it definitely helps if you have friends here already – especially Brits who will understand the "It's not England" mentality we sometimes have when we get homesick.
Lots of our members join our group Brits in LA seeking out words of wisdom – what is the best piece of advice you've been given? 
Gosh, so much great advice has been given to me over the years.  I'd say off the top of my head, the best piece of advice I've ever been given is "Always be prepared to walk away from the deal" – it has saved me many times.
Lastly, how can we find out more about you? Are you working on anything at the moment?
I make my living as a film and documentary producer but I recently launched a passion project with Jennifer Pfister to prevent the extinction of Africa's iconic animals (all gone within nine years if we don't act to stop it!).  It's called "Over And Above Africa" www.OverAndAboveAfrica.com.  It's an innovative subscription service where members pay $5 a month to micro-finance successful initiatives that fight poaching and the human/animal conflict in Africa. We film the projects we fund and  then broadcast them back to our platform for our members to see and experience their funds at work tackling the crisis.  It's the perfect answer for people who really do want to help protect our endangered species, but don't have time to research legitimate programs and causes. Our hashtag is #AffordablePhilanthropy!
I also have a production company called www.AtlanticCrossingProductions.com with fellow Brit, Diana Howie, and we have multiple projects at all stages of production. You can follow me on Instagram and Twitter @Kerdavid and @OverAboveAfrica.
Photo by @PhilipFolsom