Exclusive interview with author and psychic Melanie Barnum about her new book
By Gabriel Pantera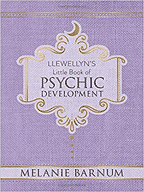 "I've always written about psychic development," says Llewellyn's Little Book of Psychic Development author Melanie Barnum. "It is where I am most comfortable. I wanted to write something a bit lighter, something that wouldn't take too long to write, but that would occupy my writer's brain. I contacted my editor and asked if they wanted another book. Coincidentally, they had just discussed wanting to do the second book in their series of Llewellyn's Little Books, and it was this topic."
This pocket-size book aims to help you connect with your intuition. Barnum relays her personal experiences and as a psychic reader, those of her clients. The book features exercises to help you get in touch with yourself and build a more positive life.
"Before I had published books, I did a few readings a year for people who lived out of the United States," says Barnum. "But now, I do them often, and for many different countries. One of the most interesting things that has happened as a result of writing my books has been the difference in my clientele. Reading for people all over the world, over the phone or Skype has become more of the norm."
"It's exciting to me to learn about different cultures through the readings and to understand that simple things I take for granted," says Barnum. "Like biscuit…means something totally different to someone else. In one of my readings I kept psychically seeing someone eating a cookie. But, I was hearing the word biscuit. It took a few minutes for me to realize it had nothing to do with dogs, which I typically associated with biscuits, but instead, had to do with English tea time and cookies."
For research, Barnum loves to read books on the subject she's writing about. She also reviews her client session notes, to see what stood out and how she received the impressions.
"I draw on my own experiences and try and share my own knowledge from my almost twenty years of practicing as a professional psychic," says Barnum. "I also watch, because I love it…analyze other psychics and mediums in person or who have shows on television. Most importantly though, I pay attention to what questions people ask me. I like to know what my readers want to know about. I researched this latest book, and all of my books, by asking them what they are interested in and tried to incorporate the answers into my books."
Barnum has written four other books: The Book of Psychic Symbols, The Steady Way to Greatness, Psychic Abilities for Beginners, and Psychic Vision. She writes the "Psychic Symbols and Other Psychic Stuff" column for Bellesprit Magazine. She created the Psychic Symbols Oracle Cards, a deck of 44 symbolic and brightly colored cards used for readings. Her books have been translated and reprinted in other languages for other countries.
"When I first decided to submit a book query proposal to publishers, I actually tuned into my own intuition," says Barnum. "Asked to see psychically what the spine of my book would look like. I wanted to see what publisher's symbol, if any, was printed there and what color it would be. What I saw was surprising. I doubted it because I didn't think one of the top publishers in this genre would be interested in my book. I saw Llewellyn's moon logo."
Barnum lives in Bethel, Connecticut and has an office in Ridgefield. She was born in New Jersey. Her official website is www.MelanieBarnum.com
Llewellyn's Little Book of Psychic Development by Melanie Barnum. Series: Llewellyn's Little Books (Book 2), Hardcover: 192 pages, Publisher: Llewellyn Publications (June 8, 2017). Language: English. ISBN: 9780738751863 $12.99