Exclusive interview with author Robinne Lee, discussing her new novel about a mom who finds herself in the tabloids for dating a performer half her age
By Gabrielle Pantera
"Right out of school I'd managed a singing group that was produced by one of the members of the New Kids on the Block," says The Idea of You author Robinne Lee. "I spent a lot of time around them when they were still at the height of their fame. A few years ago, my husband was away on business and I was up late surfing music videos on YouTube when I came across the face of a boy I'd never seen in a band I'd never paid attention to."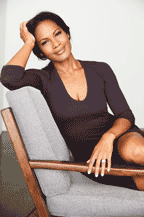 "It was so aesthetically perfect it took me by surprise," says Lee. "It was like…art. I spent a good hour or so Googling and trying to figure out who this kid was. In doing so I discovered that he often dated older women, and so the seed was planted. When my husband returned a couple of days later, I joked with him that I'd found the perfect guy and I was leaving him and our two kids. 'Oh, and by the way, he's half my age.' My husband laughed, and then a moment later said, you know, that would make a great book."
In The Idea of You, Solène Marchand is a 39-year-old divorced mother and owner of an art gallery in Los Angeles. Solène meets her daughter Isabelle's favorite boy band August Moon. Solène is intrigued by band member Hayes Campbell. He's clever and confident. He's also 20 years old, closer to her daughters age then hers. Solène soon finds herself in a relationship with Hayes, and seeing her life and her daughter's exposed in the tabloids.
"It was the addition of the daughter on the verge of her teenage years that really made it exciting for me," says Lee. "That's such a tricky, delicate time. At least it was for me. Where everything seemed heightened and dramatic and every little slight or misstep felt like the end of the world."
An actress and a producer, Robinne Lee has starred in Hitch and many other films and television. She's been a performer and writer most of her life.
"Acting as a career, often being in the public eye, and being in the company of huge celebrities definitely informed much of the writing of this book," says Lee. "Being on sets with Will Smith, having Tom Cruise come to visit. Being targeted by paparazzi on the Fifty Shades set. Seeing Jennifer Garner hounded. Attending exclusive after-parties at Prince's home. Dining out with people like Gabrielle Union and Dwyane Wade and realizing you cannot have a meal uninterrupted. Those things stay with you."
Lee spent six years working on a novel prior to this that was semi-autobiographical. "It did not sell," says Lee. "And, it crushed me. But in the last year or so I've learned that just about every author has a fully-finished first manuscript in a drawer somewhere that they, too have not sold."
Lee started writing The Idea of You in March of 2014. It has yet to be optioned for film or TV.
Lee says she's a huge Anglophile, that when she started writing The Idea of You and knew there was going to be a boy band, she thought, "Oh, I can make them British!"
Elizabeth Beier at St. Martin's Press is Lee's editor. Richard Pine at InkWell Management is Lee's agent.
Lee is currently writing a "dark and twisty" family drama about finding one's identity. She stars in Fifty Shades Freed, releasing in February. She's in an indie film with Taye Diggs about domestic violence called Til Death Do Us Part. That will be out this fall.
Lee lives in Los Angeles. She was born and raised in Westchester County, New York, a suburb north of Manhattan. For more on the author, visit www.robinnelee.com
The Idea of You: A Novel by Robinne Lee. Trade Paperback, 384 pages, Publisher: St. Martin's Griffin (June 13, 2017). Language: English, ISBN: 9781250125903 $15.99