Meet Melanie Escombe from Wimbledon, who moved to LA four years ago (after a ten-year layover in Mullumbimby, Australia), to pursue a career in concert photography.
Was there a particular reason you chose LA?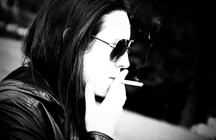 The town where I was living in Australia was beautiful, but very small, essentially just two streets, and a beach at the end of the road. If I wanted to go to a big concert, museum, international art exhibit etc. it was a 200km drive to the nearest city, Brisbane. My options were fairly limited workwise too. I'd set my heart on becoming a concert photographer, and with just two small pubs in town, and the big acts only coming to Brisbane once a month, I wasn't likely to develop an impressive portfolio any time soon, but here in LA it's a completely different story. There is so much happening here every night, from shooting classic rockers like Slash, and Billy Idol on Sunset Strip, to music superstars like Tom Petty at the Forum, I'm spoiled for choice when it comes to shows. There is also a really exciting live music scene for bands on the rise. I have been lucky enough to see and photograph the top new talent, like Mike Hayes, Satellite Sky, The Diamond Light, Pluuto, Pete Pidgeon, Future Villains, Marcus Eaton, and Jason Achilles Mezilis.
What do you miss most from home?
Bacon, and bizarrely, rain. Although, I've found a few places now that offer English style bacon, I still really wish LA got more thunderstorms!
What was your first impression of LA and has it changed since?
I'd been to LA a few times as a kid on family holidays, and back then I couldn't see what all the fuss was about, apart from the theme parks, Hollywood seemed totally overrated, and the rest of the city appeared to be nothing but a hot and dirty mess to me. It wasn't until I arrived here as an adult, and was shown around the city by locals that I fell in love with LA. There's so much to do and experience in LA once you scratch under the surface of the tourist attractions. I love that there is something here for everyone no matter what their passions are. Even after four years here, I am still discovering new things to fall in love with, new parts of the city to explore, new museums, new hiking trails, beaches…I don't think I could ever become bored here.
What do you find the biggest difference is living here versus Mullumbimby?
The biggest difference I've noticed so far is how receptive people are to those with creative ambitions. It may be a bit of a cliché, but because so many people here are aspiring actors, artists, and musicians, it's easy to find a support network of like-minded people who can help get you started and keep you on track to achieve your dream.
Do you have a hidden gem in LA that you want to share with us?
There is a tiny, dimly lit club in Studio City called the Baked Potato that is a music lovers dream. Any night of the week you can drop by and know that you'll get to hear some of the world's greatest jazz/blues/rock musicians, and if you're feeling hungry, you can grab a baked potato the size of your head!
What would you suggest to others who are thinking about making the move here? 
I think it would have to be save as much money as possible, know exactly what is you want to do, and where in the city you want to be. The first few months can be hard, whilst you're trying to get housing and transport sorted out. It can also be easy to get sucked in by the glitz and glamour of Hollywood parties, or feel like you need to go to every event/show, and before you know it you're broke and burnt out.
Lots of our members join our group Brits in LA seeking out words of wisdom – what is the best piece of advice you've been given? 
Don't be afraid to put yourself out there! Connect with people on Brits in LA, go to networking events, and industry events. Not only are they usually a blast, but life in LA is far easier when you have a strong support network of friends who can not only relate to the difficulties facing a newcomer, but will be there to back you up when you're feeling lost, or hit the inevitable rough patch
Lastly, how can we find out more about you? Are you working on anything at the moment?
In between shooting bands around Hollywood and on Sunset Strip, I'm primarily working with Laura Lamour, an incredibly talented artist and painter, on a dark fairy tale that pays homage to Hollywood's golden ages, as well as our favorite film directors and musicians. The project will feature a mix of both my photography and Lamour's artistic talents, and we hope to complete the tale by 2018.
I'm also in the midst of applying for my O1 Visa in Photography, which is both exciting and terrifying at the same time. If you'd like to check out my photography it can be found on my website www.melanieescombephotography.com, or on Instagram @Melanie_Escombe_Photography or Facebook at www.facebook.com/MelanieEscombePhotography