I thrilled to report that Anna Friel is heading back to our TV screens with Marcella!
The popular Netflix series will return for a second season of dark detective drama, with Keith Allen and Nigel Planer joining its cast.
Oo-er!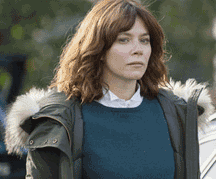 Friel plays Detective Sergeant Marcella Backland, accompanied by Ray Panthaki, Nicholas Pinnock, Jamie Bamber and Jack Doolan.
The new run will see Marcella investigate the discovery of a young boy's body inside a wall, surrounded by toys and a school blazer. 
Friel said: "I'm thrilled to be reprising the role of Marcella and want to thank ITV for recommissioning this powerful London-based noir drama. The reaction from everyone has been amazing, although the real question I keep being asked is whether the green parka will be making an appearance in season 2 as well?"
New characters will include former popstar Reg (Planer), his manager Alan (Allen), and a new addition to Marcella's team, LeAnn, who eventually becomes an ally in the police department.
Created by The Bridge's Hans Rosenfeldt, the first series of Marcella aired in 2016 and drew eight million viewers and a 29% share of viewing for its launch episode. For many viewers the show's appeal is the flawed nature of the lead character, who struggles to battle a dysfunctional personal life and at-work politics while taking on her next challenging case.
The series averaged out at 6.8 million viewers (25% share), securing a place for it as one of ITV's top-rated dramas last year.
Friel got her big break in a pair of British soaps, Emmerdale and Brookside. But the moment that really put the Manchester-born actress on the map came in the latter show in 1994, when she shared a lesbian kiss (oo-er) with Nicola Stephenson. It was the first such kiss in British soap opera history, although things haver got a lot racier since then!
Production has begun on series 2 of Marcella, but no air date has been set. 
So I will udpate you as soon I hear!