Lady Victoria Hervey was back in the city of Palm Springs, California last week!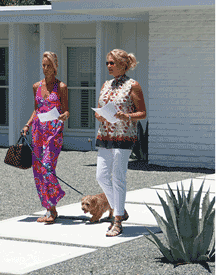 This time however, the gossip column staple wasn't splashing around, scantily clad at poolside, OH NO, this time Lady Victoria had proper business to attend to.
My Palm Springs spies inform me the Brit starlet is about to splash out a cool $1m on fabulous home in the heart of the desert.
Oo-AH!
It would appear the model and socialite has been secretly house hunting for months, after she was spotted eyeing up a fabulous mid-century modern home in South Palm Springs with top realtor Bib Scott.
The three-bedroom luxury home is on the market for $895,000 and boasts incredible mountain views.
I can reveal that Victoria has made an offer of just under $1 million on the Palm Springs mansion that takes up an acre and a half of land, so its safe to say the piece of tasty posh totty won't have trouble finding space for her impressive collection of see-through dresses!
We can only imagine the kind of pool parties the body confident star will be hosting if she bags the house.
However, the former It girl – who also owns a spot in LA – won't be leaving London behind for good, as she plans to split her time between the UK and US.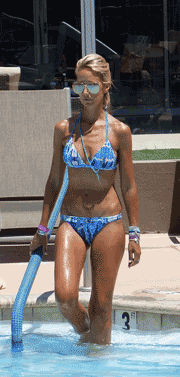 So just what is it about the desert that has left Victoria eager to set up camp?
"I love the intense dry heat. I love the hot weather, Anyone who knows me will know how I dislike cold and air conditioning," the socialite said in a recent interview with LIVE Magazine.
"I have been working with realtor to the stars Bib Scott. I am confident I'll find my dream home."
Revealing how she spends her time in the Southern California haven, the TV babe said she likes sunbathing, swimming and vintage shopping.
She told LIVE: "I love visiting Joshua Tree, mini road trips, sunbathing, swimming… Oh and I can't forget vintage shopping. Palm Springs has the best vintage shopping!"
And Victoria isn't the only celeb to fall in love with Palm Springs, as celebs flock to the location every April for the star-studded Coachella music festival.
Never one to miss out on a fun event, the high-living aristocrat was front and centre for the action this year.
Making sure to hang with the A-list crowd, the former model attended Katy Perry's VIP gathering.
Dishing the on the invite-only VIP bash, Victoria revealed: "Katy's Easter brunch was launching her new shoe range… She was really fun to hang out with. I love her friends."
Watch this space for more info!