Meet Marc Sallis from the Isle of Wight (via Essex and London) who moved to LA five years ago to pursue music and the arts.
Was there a particular reason you chose LA?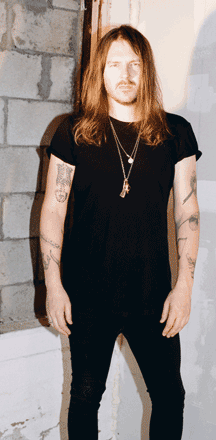 From the very first time I visited Los Angeles on tour I felt at home here. I'd lived in London for over 12 years before moving to LA, so when I was on tour with my band The Duke Spirit we couldn't wait to get to LA and the sunshine. Even though when we'd pass through New York it felt like a slice of home and being back in London for a few days, when we'd hit Los Angeles it felt like I could stay forever. This city has everything I love about London and the Isle of Wight, where I grew up from the age of eight-years-old. It can have the urban hustle and bustle of London when you want it in downtown and Hollywood, but it also has all this greenery, like Griffith Park, the mountains, and the beach, which remind me of the best things about growing up on the Isle of Wight. So when I had a chance to move here for my new music projects, The Bulls and The Saint James Society, I grabbed that opportunity and I haven't looked back. I've even started a new record label, Blank City Records, with my Saint James band mate, which we're currently growing into a community for artists at a new space in Echo Park. I don't feel like I could've had these same opportunities back in London any more with how the scene's changed there.
What do you miss most from home? 
Apart from my family and friends, I have to say "real" chips! I just can't find anywhere that does real fish 'n' chips! How hard is it to cut up a potato and deep fry it British fish'n'chip shop style? Maybe that will be my next venture here in LA, setting up a rock'n'roll fish'n'chip shop and call it "Rock'N'Roe".
What was your first impression of LA and has it changed since?
LA has always had that reputation for being "laidback", but I have to say that from the moment I got here I've never seen people work harder than they do in LA. They might not "play as hard" as they do in New York and London, but they certainly know how to make things happen, so long as you're working your arse off constantly to achieve it.
What do you find the biggest difference is living here versus London?
Everyone in LA talks about traffic in the same way we obsess about the weather back in London. And I have to pronounce "water" as "war-der" when I order it here or no one understands me here!
Do you have a hidden gem in LA that you want to share with us?
I have a couple of "foodie" hidden gems, like the secret off-menu burger at Café Stella in Silverlake, which you can only order in the back bar in the evening. Just ask for it with the truffle fries! And there's the Old Place up in the Agoura Hills, which is a real fun place to hit at the weekends. There's even a winery next door, so you can go do a tasting whilst you wait for your table. And where do I even start with my favourite taco trucks… and escaping to the desert and Pappy & Harriet's in Joshua Tree at the weekends (or, even better, during the week!) is a must.
What would you suggest to others who are thinking about making the move here?
Don't even consider moving here if you can't drive! I moved here before Lyft and Uber, which has made a massive difference in the last few years, but it's such a vast city you'll miss out on opportunities, both business and social, if you can't drive yourself around. Also, if you're used to the lunchtime drinking culture of London and New York, forget it!
Lots of our members join our group Brits in LA seeking out words of wisdom – what is the best piece of advice you've been given?
If you find yourself in Santa Monica after 5pm (or even 4pm these days) and need to drive back to the Eastside, just make plans to stay until at least 8pm or later as it'll take you the same amount of time to get home if you miss the gnarly rush hour(s) traffic on the 10 and 110 freeway.
Lastly, how can we find out more about you? Are you working on anything at the moment?
As I mentioned, I've got a number of projects on the go right now, including two bands and a record label. If you want to check any of it out head over to @thebullsmusic on Instagram, Twitter and Facebook, you can find The Saint James Society on Facebook too and head over to blankcityrecords.com or @blankcityrecords on Instagram as we gear up for our first-ever release and new arts community in Echo Park.