British actor Andy Serkis bonded with his War for the Planet of the Apes co-stars by holding ape boot camps for the actors portraying primates.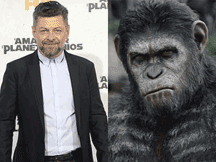 The Lord of the Rings star reprises his role as genetically-enhanced ape leader Caesar in the third installment of the rebooted film franchise, and the motion-capture expert invited castmates to join him for special training sessions before shooting began so they could learn the body language of the animals they were playing onscreen.
"We do these ape camps before we start…," the star told U.S. breakfast show Good Morning America. "If you're creating a believable troupe of apes, they've all gotta have a way of relating to each other.
"There's a hierarchy, there's a structure, there are all these rules (in the animal kingdom)… because they are not just apes, they are apes that are evolving because of the drug that has been coursing through their veins over the years…"
"I've not only played him (Caesar) from infancy all the way through his life, which is the most incredible journey over the course of three movies."
Andy continued, "but he's also evolving, so he goes from being purely a chimpanzee to almost this human-like being and with that comes (the questions of) how do apes begin to form a language? How do they start to physically become more human-like? How do they emotionally become more human-like? So those are the sort of things we work through, these long extended, improvisations, in ape camp."
'War for the Planet of the Apes' co-stars Woody Harrelson as The Colonel, a ruthless army boss who is willing to do whatever's necessary to ensure human survival in the battle with the apes, but off set, Andy insists the No Country for Old Men actor couldn't have been nicer.
"I was so excited to work with him, he's a brilliant actor and such a lovely man, and a really honest individual…," Serkis gushed. "He's a really, truly great man…"
And they got along so well, Andy is now proud to call him a real friend: "Woody is a magnificent, magnificent human being and actor, and we became really good mates on the film and had some wild nights out."
The feeling is clearly mutual – earlier this week, Woody told the same programme "incredible" Andy was "probably one of the greatest actors I've ever worked with".
War for the Planet of the Apes opens in the U.S this weekend.