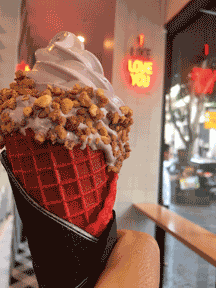 So, yes… this summer ice cream is a thing! I know I know, every summer ice-cream is a thing. But this year, there are more and more parlours opening up in and around LA with flavors that you could never have imagined…until now.
So I thought it only fair (and in the name of research, of course) that I go and visit a few of them for you.
Salt & Straw. This place looks to be LA's hottest ice cream destination right now, if instagram is anything to go by. Located at 829 E 3rd St in Los Angeles with a sister location at 1357 Abbot Kinney Blvd in Venice. They have an array of unusual flavors from "Black Olive Brittle" to "Toasted Strawberry"; however my favorite here was just the plain ol' vanilla. Definitely worth checking out!
Carmela Ice Cream, 7920 W 3rd St, Los Angeles. These great purveyors of icy deliciousness are kind enough to sell their wares at the Hollywood Farmers' Market on Sundays, so I'm able to stock up without traveling too far. My favorites here are the Salted Caramel, the Blood Orange Sorbet and the Mint Cacao ice cream.
Sweet Rose Creamery, 225 26th St (at San Vicente Blvd), Santa Monica. I went to visit these guys recently with my fiancè and a few friends. On this day they happened to be working with a mixologist. He was experimenting with flavors, such as sushi ice-cream, caviar and balsamic vinegar! To be honest I wasn't a huge fan of the savory ice-cream. But to cleanse my palate I went for the Rose Geranium flavor with the chocolate fudge sauce.  Reminded me of a Turkish delight. YUM.
Little Damage, 700 South Spring St, Los Angeles. Before stumbling upon this place in Downtown we attempted to check out the Museum Of Ice Cream. But unfortunately we weren't aware that you can't just stroll up. You must have tickets and an appointment time. We were also informed that they are sold out until mid October! And to go visit the website and sign up for their newsletter to get info on when tickets will be come available. Urgh! However I've seen a lot of members have been going and blowing up my Facebook feed with images of them diving into a pool full of sprinkles. So, yes I'm having major FOMO (fear of missing out) about that one. 😉 However, I was even more determined than usual because my 11-year-old niece Rainna was on a mission to find the exclusive, rare black ice-cream. She had heard about the wondrous soft-serve place on the grapevine inside the school gates. So I got my personal assistant on the case:
"Siri, were can I find black ice Cream in LA?"
"Hello Craig, I have found one location near you. Little Damage.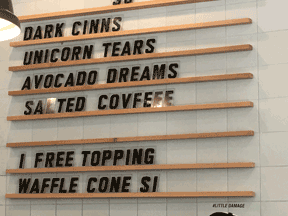 Eureka! By jove we found it.  We parked up in the lot next door ($10 FYI) and joined the massive queue around the block in that dreadful heat last week. Everyone in the line had their cameras and phones at the ready. About 30 minutes later we arrived at the front and found out about all the different flavors… of which there are only four. The coveted black one is called Dark Cinns which boasts a cinnamon flavour. And in case you are wondering, it's charcoal that makes the ice cream black. I also got to try the Unicorn Tears (cake batter flavour) and the Salted Cafveve. (A play on Potus 45's recent Twitter mishap) this was my favourite – it comes in purple-lilac coloring and is not as sweet as some of the others.
So was it worth the wait? Well I am partial to the soft-serve ice-cream over the scoops, as it takes me back to Sunday afternoons after lunch and hearing the odd echoing-sound of the ice-cream man's blaring nursery rhyme music coming down the street. "Mum! Can I please have an ice-cream?" Some days we couldn't have it, but boy, was it good on those days we did!
But back to this parlour. Besides it's wonderful Instagram moments with some neon signs and the soft-serve itself and of course, the novelty of the black-ice Cream, I'd have to say that I wasn't overly impressed with the limited menu and the 30 minute wait.
So even though I like my soft-serve, I'm going to call Carmela's my favorite for variety and the great tasting flavors.
So this summer,  remember Ice-cream is a thing and if you are feeling really adventurous ask Siri to find you the nearest place that serves Ice-cream Tacos.
Cheers,
Craig Young