Meet Michelle Mosczinsky from Glasgow, Scotland who moved to LA 23 years ago to pursue "a more fabulous life"
Was there a particular reason you chose LA?
I was born in Glasgow, Scotland. I went to primary and part of secondary school there. Growing up we also lived in Spain, Germany, and Jersey in the Channel Islands. From a young age I was quite worldly. Growing up in the era of American TV shows like Dallas, Dynasty, Knotts Landing, etc. America seemed like a glamorous playground of the rich and famous. At the time, the original Beverly Hills 90210 aired on British TV and I watched the show for the first time. I was mesmerized that people actually lived in a place called Beverly Hills. All that sunshine and palm trees. I had just started at Offshore Trust Bank in Jersey and was all set for a career in banking, but honestly, I was bored stiff.  Next thing – a friend of the family offered me a PA position in her Los Angeles office. I jumped at the chance. I was about to live like my favorite character on the show, Kelly Taylor for real. The move completely changed the coarse of my life. This City has been very good to me. I really do love LA, and I have a new appreciation each time I return from a trip.
What  do you miss most from home?
I would have to say Los Angeles is my home now. I do miss Scottish humor and the cheeky banter. I have not been back to Scotland since 1996. Watching Trainspotting 2 recently made me very nostalgic. Plus, I did not need subtitles. I may have lost my accent, but not my cheeky Glasgow tenacity. Very straight forward, rare for Los Angeles. I've been told I'm like a female Gordon Ramsey, minus the swearing.
What was your first impression of LA and has it changed since?
I landed on my feet right away, as I already had a job, got to live in lovely house, and had use of a car. Back in the late nineties like everywhere else in the world, the city was thriving. I see the city, like so many other places, for a lack of a better word – becoming run down.
What do you find the biggest difference is living here versus Jersey?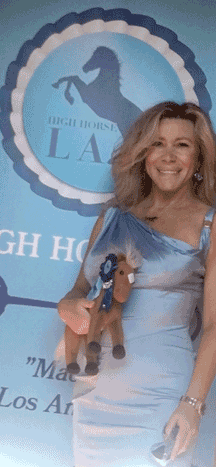 Geographically Los Angeles is a sprawling Metropolis. Jersey is only 45 miles square. Even after all these years. I'm still discovering new places. But the biggest difference is probably the state of mind. Much less negativity here. You rarely hear "oh, you can't do that". When I first arrived positivity, and all those other LA clichés were something at which I would "roll my eyes". Now I'm more LA than most Angelenos I know. Living in different countries as a child gave me the "when in Rome, do as the Romans" attitude.
Do you have a hidden gem in LA that you want to share with us?
Franklin Canyon Park (2600  Franklin Canyon Drive, Beverly Hills) with its lake and duck pond is like a taste of the British Countryside minutes from the bustle of the City. There are so many areas, neighborhoods that have hidden gems. I enjoy having a day trip in the city, like Koreatown, or go Downtown to Chinatown for dim sum on the weekend.  Exploring and finding one that makes you happy is half the fun.
What would you suggest to others who are thinking about making the move here? 
Have your ducks I order. Take everything people tell you with a pinch of salt. Just be yourself, and be open to things you might not normally do in the U.K.
Lots of our members join our group Brits in LA seeking out words of wisdom – what is the best piece of advice you've been given?
The world is your oyster in this town. It's all down to you, and your attitude. Be open to the possibilities, people and places. Really get out of your comfort zone.
Lastly, how can we find out more about you? Are you working on anything at the moment? Aside from working in the creative and fashion field I'm dabbling in jewelry, with an equestrian-themed brand. High Horse LA – named after my love of horses, British phrases, and double entendres. I've designed a horse silhouette necklace. Conceptulized from a desire and need for a necklace that would sit in place, not move around, or annoy. It's made in the jewelry district I downtown LA. Just in launch phase, trying to spread the word to horse lovers, and reach markets outside the LA area. I'm currently offering BritsinLA readers a discount of 20%off if they use the discount code "BritsinLA" at checkout, and fast free shipping for the entire US. I ship internationally if you would like to send one as a gift. For more details visit highhorsela.com or my fashion styling website, stylecoachla.com