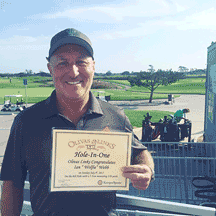 Golfer Ian Webb knew exactly what to do after sinking his first ever hole-in-one – he bought the entire clubhouse a celebratory drink.
The 55-year-old British expat – known locally as 'Wolfie' – has been playing the sport for more than 40 years but had never achieved the memorable one-shot feat.
But after achieving golf's Holy Grail with an-inch perfect 159-yard shot into strong head winds at Olivas Links in Oxnard, CA, Ian immediately knew that the beers were on him.
Londoner Ian, who has lived in Santa Monica since 1984, said: "It was a special feeling that's for sure. I've been playing golf for years and had never had a hole in one, although I've been really close a good few times.
"Golf etiquette means that anyone who gets one has to buy the drinks back at the club house and so I was more than happy to get them in for all of the lads."
Ye Olde King's Head regular Ian was playing in a tournament with 33 other golfers from the Argyle Golf Club when the magic happened for him on the 8th hole with a five iron.
He said: "I took the shot and knew it was going to be close as soon as I struck it. Then the ball just vanished.
"I've got pretty decent eye sight so I think it just went straight into the hole without bouncing.
"I've not been playing much lately as I've been recovering from knee troubles so this was just what the doctor ordered. I'm also happy that I've got one more hole-in-one than my pal Steven Leatherbarrow!"
The Santa Monica-based Argyle Golf Club was formed in 1960 by original members Paddy Ratcliffe , T.Brown, Eddie Glover and Roy Milne. Members of the society play 12 different courses a year around LA County. (Courtesy: The Mega Agency).