Book Review: What Regency Women Did for Us
Exclusive interview with author Rachel Knowles, about her new book about twelve British women from the early 1800s who still matter today
By Gabrielle Pantera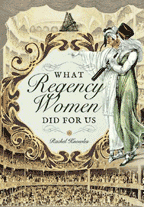 "I was looking for twelve women who lived during the Regency period whose lives made an impact on the time in which they lived, but who had also left some legacy into the 21st century," says What Regency Women Did for Us author Rachel Knowles. "My husband Andrew and I are both historians. We spend a lot of time talking about my research. Andrew had heard part of the stories of many Regency women. During the summer of 2015, we became intrigued with the idea that several of these women had left something of a tangible legacy into the 21st century."
Knowles, known for her history blog, describes how each of these ladies changed their world and ultimately ours. Great reading for learning about inspiring women and for research.
During the Regency era (1795 to 1837), women's lives seemed limited. Women were not considered intelligent, had little access to higher education. They had few rights. If married they became the property of their husbands. Some women prevailed despite the obstacles. The twelve women in this book come from different social backgrounds, actresses and authors or pioneers in the areas of business, philanthropy or science.
"The title was originally a throw-away comment by Andrew that stuck," says Knowles. "We realised that it would connect with people. As a result of my blog, I have been invited to various exhibition previews, for example, the Queen's Gallery, Buckingham Palace and the Wallace Collection. I have been interviewed for local radio, for South Korean television, and most recently, by BBC West."
Among the women featured in the book are Jane Austen, and lesser known personalities with valuable scientific contributions such as the astronomer Caroline Herschel, the 'engineering enthusiast' Sarah Guppy, and Jane Marcet, Faraday's teacher.
For research, Knowles read biographies, and searched for all sorts of documents about the twelve women. "I chose women of different nationalities and backgrounds who influenced different aspects of life in Regency Britain. Wherever possible, I used original sources. These included contemporary newspaper reports, memoirs and genealogical records. However, even these are not always entirely reliable. For example, in her memoirs, Madame Tussaud wanted to give the impression that she had been on intimate terms with the French royal family before the French Revolution. She claimed that she had lived at Versailles whilst teaching wax modelling to Madame Elizabeth, sister to Louis XVI. But, her residence there is unsubstantiated by the official palace records."
"The Internet is a marvellous source of documents for the historian," says Knowles. "The vast majority of sources that I looked at were online. Google books and Archive.org both have large quantities of out-of-copyright material. I also looked at newspaper archives and family history records." She visited Bristol Archives.
Knowles' first book, published in 2015, was A Perfect Match, a historical romance set in late Georgian London and Weymouth.
Karyn Burnham was Knowles editor at Pen and Sword Books, but Knowles says her primary editor is her husband Andrew. Knowles doesn't have an agent.
Knowles is currently writing another historical romance, a sequel to A Perfect Match, set in 1810. She also writes historical articles for her blog RegencyHistory.net. She gives talks about the Regency period, for which she has an authentic Regency costume that she wears.
Knowles lives in the seaside town of Weymouth in Dorset on the south coast of England.
Knowles lived for 13 years in Alton, Hampshire, a few miles from Chawton where Jane Austen once lived. Knowles has taken part in the Jane Austen Festival Regency Promenade in Bath for the last three years.
What Regency Women Did For Us by Rachel Knowles. Paperback: 224 pages. Publisher: Pen and Sword. July 19, 2017. Language: English. ISBN: 9781473882249 $24.95