You asked and we listened!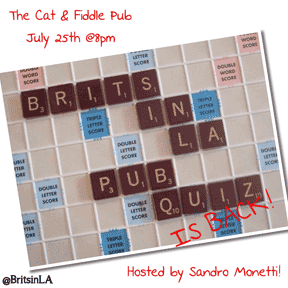 Brits in LA Pub Quiz is coming back! So sharpen your pencils and your brains for the first trivia night at our new abode with our old friends The Cat & Fiddle Pub at their new location 742 N. Highland Avenue in Hollywood.
We know you get a lot out of our group on Facebook, but nothing compares to meeting each other in person. The feedback we get each week at our Breakfast Club is proof in the pudding. Tuesday mornings aren't feasible for everyone but perhaps a Tuesday night is?
We are delighted to welcome Sandro Monetti back in the role of Quizmaster and he will be expecting your presence for an 8pm kick off for our debut on the evening of Tuesday July 25th.  The rules have changed slightly (to your advantage). Still no phones of course and Sandro will possibly read out the last three texts of any offenders, however there is no fee to play, but  we do request all participants purchase something from the Cat & the Fiddle menu, whether it be the Moscow Mule $6 drink special brought to you by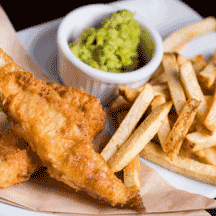 Ketel One or perhaps one of their menu items which has a wide selection from flatbread pizzas, to an array of vegetarian options including a Shepherds Pie and a Cauliflower & Red Quinoa Burger. For those of you who fancy a taste from home, there is a plethora of choice which includes Fish n' Chips, Bangers & Mash, Steak, Mushroom & Guinness Pie. I am currently trying to decide if I can fit in a Sausage Roll and a Scotch Egg or if I should save room for the Apple & Pear Crumble (with custard!!). Fortunately we are there every Tuesday for the rest of the summer so perhaps I should try to pace myself…
What do points mean? Prizes of course!
1st place team gets $75 cash, and the runners ups are looking at prizes too. From free drinks rounds, a gift voucher to spend at The Cat up for grabs, as well as goodies from Guinness, Fabulous Films and Diageo – further details and Sandro's rules can be found by visiting us at www.Britsin.LA – walk ins welcome – we will find you a team join if you are flying solo.
Talking of flying….we are also pleased to tell you that Air New Zealand have reinstated the discount codes they offer to Brits in LA members – when they recently lapsed briefly last month a state of pandemonium commenced! I woke up to several emails, instant messages plus multiple comments on Facebook from people in a panic when they discovered their loss. But thanks to the wonderful team at ANZ all is now back to normal; so long as you book your flights before the end of August. Actual travel dates can commence after though. If you need a reminder of the current discount codes email ANZCodes@Britsin.LA
If you have any questions regarding any other matters please drop us a line at BritsinLA@gmail.com –
hope to see some of you next Tuesday either at Breakfast or Pub Quiz….or both!
Cheers
Eileen