Meet Nathalie Gordon from London who moved to LA one year ago to pursue a career in fashion and beauty photography.
Was there a particular reason you chose LA?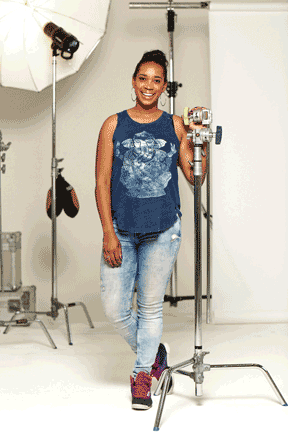 That's easy…the sunshine! I have only ever lived in the UK and would travel at least four times a year chasing sunshine, so I figured I'd reside somewhere that has it pretty much permanently. I also wanted to do more with my photographic career and needed new inspiration. I only got so far in London before my work and the industry started to feel a bit stale.
What do you miss most from home?
Friends, Family, Percy Pigs from Marks & Spencer and Vera…my Vespa!
What was your first impression of LA and has it changed since? If so, why?
I didn't really have a first impression. I'd never been to LA before I decided to move here. It came to me as if an unknown voice were telling me to pack up and go. A lot of people gave their own views of LA and some even persuaded me to go to New York – especially because I shoot a lot of beauty and cosmetics. What people have said about it being fake and plastic is totally untrue. LA has its pleasant and dark sides but you naturally navigate to your own calling.
What do you find the biggest difference is living here versus London?
I think the outdoor culture is the biggest difference. I love how LA is so spread out and versatile. You have the option to do so many things a lot of which involve the outdoors. My only wish for LA is more rooftop bars! I used to chase rooftops all over London when the weather was good. Here the sun is out 98% of the time and I think I've been to every rooftop bar/restaurant in LA!
Do you have a hidden gem in LA that you want to share with us?
YES! There are so many hidden gems in LA but my favourite has to be the "Secret Stairs" of Beachwood Canyon. I love hiking and this is such a beautiful little hike. The stairs are pretty gruelling to climb (especially if you run up them as I like to) but once you make your way through the small streets you end up in front of the Hollywood sign, passing a gorgeous scenic look of the Hollywood reservoir and even the Hollywood Castle, which I think Moby used to own?!
What would you suggest to others who are thinking about making the move here? 
My advice would be "don't even think about NOT doing it!" Don't wait to try and have it all figured out. Just get some clothes together and do it. I came out here on a six month tourist visa to test the waters and then decided to switch and stay. Once you get to LA, hang out at Cecconi's every Tuesday and go from there. I have made so many friends and contacts and everyone is SUPER NICE. You'll also want to adopt Bernard who is one of THE most welcoming people I've ever met.
Lots of our members join our group Brits in LA seeking out words of wisdom – what is the best piece of advice you've been given? 
Well, I'd like to share the best piece of advice a friend from London gave to me, and that was to say yes to everything. When you are new in town it's a great way to get a feel for the city. You'll get to find out what you like and don't like. This was something so major for me, stepping out of my comfort zone has been a real eye opener. I've definitely grown as a person and have made fantastic friends and contacts from doing so. Plus you never know where and who you are likely to meet in LA.
Lastly, how can we find out more about you? Are you working on anything at the moment?
My website (www.nathaliegordon.com) and Instagram (@photonzthalie) is where you can see my latest work. I specialise in macro beauty and I've been shooting advertising campaigns for LA-based style and beauty brands plus I love shooting look books for fashion outlets. I'm currently working on a beauty series all about LIPS that I'm transforming into large-scale fine art pieces!