By Franz Amussen
ONE OF Britain's most influential musicians of the past half century can be seen performing locally when John Mayall plays the Eli and Edythe Broad Stage in Santa Monica on Friday August 25th at 7.30pm. Mayall will perform as part of a trio delivering a career retrospective with new slants and sounds to showcase his monumental life in blues music.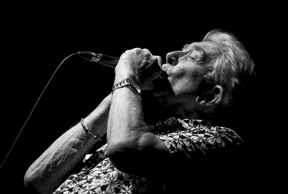 Dubbed "The Godfather of British Blues", the singer, pianist, harmonica player, guitarist, and songwriter founded the band, John Mayall & the Bluesbreakers in the 1960s – a band whose members over the years included such names as Eric Clapton, Peter Green, Jack Bruce, Mick Taylor, Walter Trout, Coco Montoya and Buddy Whittington.
In 1968 Mayall recorded the landmark album Blues from Laurel Canyon, and attracted by the West Coast climate and culture, he made his permanent move from England to Los Angeles the following year and began forming bands with American musicians. Throughout the next three decades, Mayall became revered for his many jazz/rock/blues innovations featuring such notable performers as Blue Mitchell, Red Holloway, Larry Taylor, and Harvey Mandel. Mayall's popularity continued with a succession of dynamic albums including the Grammy-nominated "Wake Up Call" that featured guest artists Buddy Guy, Mavis Staples, Albert Collins and Mick Taylor.
At 83, John Mayall is still performing and touring tirelessly.  He recently completed his 66th original album, Talk About That and has 130 tour dates on the books for 2017.  In an interview with People Magazine Mayall talks about the progression of the blues, "At any given time [the blues] represents the mood of society and the things that are going on around people.  It's music that is there trailing on, keeping up with the times."
John has also recently released a couple of never before heard live albums from 1967 featuring Peter Green, John McVie and Mick Fleetwood, which along with the new studio albums have been enthusiastically received by critics and fans alike.
Ticket prices start at $45, subject to availability. The Broad Stage is located at 1310 11th Street in Santa Monica. For tickets visit www.thebroadstage.org