Book: The Daughter of Sherlock Holmes
Exclusive interview with author Leonard Goldberg about his new mystery series
By Gabrielle Pantera
"I actually got the idea from a critic who happened to give me a fine review on an earlier novel," says The Daughter of Sherlock Holmes author Leonard Goldberg. "He stated that the story, 'seemed to fly along on the Holmesian wings of Joanna Blalock.' That was the moment I connected the forensic pathologist Joanna Blalock to Sherlock Holmes. I knew that someday I would tie Joanna to Sherlock in a stand-alone novel."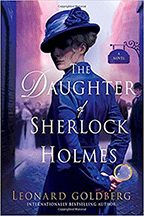 The book opens in 1914. Joanna Blalock is a skilled forensic nurse. She and her ten-year-old son sees a man fall to his death. Dr. John Watson and his son, Dr. John Watson Jr. come to see her to talk about the death they have witnessed. As they investigate they are pulled into a mystery that spans the Second Afghan War of 1878 to1880 with hidden treasure and murders. Joanna has a mystery of her own. Her mother is Irene Adler, the only criminal to outwit Holmes. Could her father be Sherlock Holmes?
"The Joanna Blalock in The Daughter of Sherlock Holmes is the long-ago grandmother of the modern day forensic pathologist who carries the same name," says Goldberg. "The idea, of course, is that the modern day forensic pathologist has inherited some of Sherlock Holmes's genes…her remarkable deductive abilities."
Goldberg did a lot of research on Victorian England. "There were a variety of seemingly small matters that had to be looked into in order to assure accuracy in the novel," says Goldberg. "For example, when did automobiles appear in numbers on the streets of London and horse-drawn carriages begin to disappear? And more importantly, what positions in medicine were available to women in that era, particularly those with high intellect?"
Knowing the streets of London presented no problem. During her sabbatical leave from UCLA, Goldberg lived in London for a year and did research at St. Bartholomew's Hospital, featured in the novel. Goldberg's flat was located near the Marble Arch, a 15-minute walk to Sherlock Holmes's rooms at 221b Baker Street.
Goldberg also wrote the bestselling Joanna Blalock medical mystery series. His novels have been translated into a dozen languages.
Goldberg had a long career with the UCLA Medical Center as a Clinical Professor of Medicine. "There is one rather curious aspect to being a physician and writing medical mysteries," says Goldberg. "My colleagues always seem to see themselves in some of my fictional characters."
Peter Wolverton is Goldberg's publisher.
"Sadly I haven't had the chance to meet Leonard face-to-face," says Goldberg. "Publishing is often a business of phone and email without personal contact. When The Daughter of Sherlock Holmes came to Minotaur, we immediately saw that it was an ingenious idea and that it had the potential to be a very strong series. Leonard and I very much saw eye-to-eye during the editorial process which made it an enjoyable process. I honestly think the most interesting thing that happened was when we saw the stunning artwork for the cover. Knocked out everyone in the room."
Scott Mendel is Goldberg's agent.
"As you may know, good agents are difficult to come by, particularly for first-time authors," says Goldberg. "While finishing my initial novel, Transplant, I happened to be reading LA Magazine and saw an article that featured the five most promising, up-and-coming literary agents in Los Angeles. At the top of the list was Jane Jordan Browne, who loved my work and became my wonderful agent for twenty years. When Jane passed away, Scott Mendel, a terrific agent who worked with Jane in her Chicago office and now has offices in Manhattan, was good enough to take me on. I've really been blessed with two agents who have guided me so well along the literary path."
Goldberg's contract with St. Martin's Press calls for a series of three novels featuring the daughter of Sherlock Holmes. Goldberg is currently writing the second.
Goldberg now resides on an island off the coast of Charleston, South Carolina, where he was born and raised. For more on the author you can find him at  LeonardGoldberg.com and on Facebook.
The Daughter of Sherlock Holmes: A Novel (Book 1 in The Daughter of Sherlock Holmes Mysteries) by Leonard Goldberg. Hardcover: 320 pages. Publisher: Minotaur Books. June 6, 2017. Language: English. ISBN: 978-1250101044 $25.99