Exclusive interview, author Natalie Meg Evans on her new novel of post-war London fashions
By Gabrielle Pantera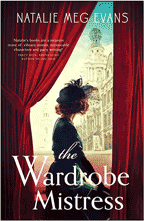 "I love clothes," says The Wardrobe Mistress author Natalie Meg Evans. "Or, more accurately, I love textiles and their place in history. "Book ideas don't spring fully formed from my mind, but expand like bread dough. At a certain point, I thump the mix, kneed it and bake it. As a teenager, I read a book called The Swish of the Curtain, about seven children's creating a theatre in a culturally bereft town. It's still available, with a fan following on Goodreads. That could have been the inspiration. Or, it could have been a mind-blowing exhibition of costumes and textiles at the New York Met that I saw during a trip there in 2015."
It's London, 1945. The war is over. Vanessa Kingcourt, a young widow and victim of the war, boards a train to start a new life and job. Her husband's oldest friend, Alistair, has hired her to be a wardrobe mistress. She must create elaborate and beautiful costumes. She has no experience. And, no budget. Supplies…fabric, buttons, ribbons, hooks and thread, are scarce. What does her future hold?
"I have a library of reference books," says Evans. "Yet, research is only the start. I immerse myself in an imaginary world and weave the materials I find within. Historical fiction is not a history hand-book. It is an imagined reality, a what if. I cannot pass a second-hand book store. Old letters hold delicious surprises as do the reminiscences and diaries that lurk under the lid of the Internet."
"An ex-Navy friend tutored me through the naval aspect of The Wardrobe Mistress," says Evans. "I interviewed a 96-year-old former actress and the present wardrobe mistress of Glyndebourne opera."
"Here's a story I heard as a very small child," says Evans. "My great-aunt Naomi, born in 1895, sewed a blouse with fabric bought from her first wage packet. Instead of the usual high-collar neck, the neckline was a modest 'V'. Her brother Bill ordered her to take it off as it was indecent. See? A whole social history crammed into one fashion error. Imagine a museum of gowns from the 18th century, through Regency muslins, throttled Victorian waistlines to the ridiculous hobble skirts of the 1910s, giving way to fluid, un-corseted shapes following the Great War. It's female history in a pot."
The Dress Thief was Evans' first novel. She also wrote The Milliner's Secret and A Gown of Thorns. Evans received a Rita nomination from Romance Writers of America. She says the big win for her was The Harry Bowling prize in 2012. "That got me my agent and publishing contract," says Evans. "Oh, and long ago, I won a set of Le Creuset saucepans from the Evening Standard, for a limerick. I still use the pans daily."
Kathryn Taussig at Quercus UK and Claire Bord at Bookouture are Evans' editors. Taussig for the UK, Europe and Commonwealth, and Bord handles US and Canada.
"Working with my editors…honestly, it's not challenging," says Evans. "They're both highly professional, friendly and supportive people. Ours is a can-do relationship.
Evans is researching her next novels and about to start writing book five.
Evans lives in a village in the East Anglian countryside of England. "I've always been a country girl at heart," says Evans, "though I lived in London for ten years and still love brief forays there, and to Paris and New York." She was born in Zimbabwe, emigrating with her parents as a baby while it was still under British rule as Southern Rhodesia.
You can find Evans online at nataliemegevans.com, or @natmegevans on Twitter and on Facebook/NatalieMegEvans
The Wardrobe Mistress: A heart-wrenching wartime love story by Natalie Meg Evans. Amazon Kindle Edition: 435 pages. Publisher: Bookouture. Publication Date: June 15, 2017. Also available as an ebook iBookstore, Kobo and Google Play. In paperback in the UK on August 10th through Amazon and The Book Depository. Language: English. ASIN: B06XPTLS26 $2.99