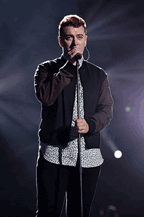 Singer Sam Smith's new record name is the 'ultimate tribute' to his family.
The velvet-voiced British star has been off the radar for almost a year while working on a follow-up to his multi-award winning debut, In The Lonely Hour.
But the Oscar-winning crooner recently sent fans into meltdown with a series of images from a new video shoot, directed by James Barber.
They featured a cryptic message TPH-50HR tattooed on his chest.
Fans have cracked the code which stands for 'The Pink House 50 Heydon Road' – the address of his childhood home.
A source told the Daily Star Online: "Sam has chosen the title as the ultimate tribute to his parents Fred and Kate and sisters who have always supported his dream.
"They never once tried to dissuade him following his dreams, so it's a very personal record."
Sam, who recently went on holiday with his dad, is finally ready to step back into the limelight.
He appeared at the YSL Beauty Club party at Sink The Pink in London this week ahead of a rumoured late summer single release.
Sam has worked with long-time collaborators Jimmy Napes and Naughty Boy on the new album, alongside Clean Bandit, Timbaland and 2016 BRITs Critics' Choice nominee Frances.
The album could be with us as soon as September with a world tour next February.