Known for her incredible figure, actress Elizabeth Hurley has finally revealed the "secret" behind her killer body.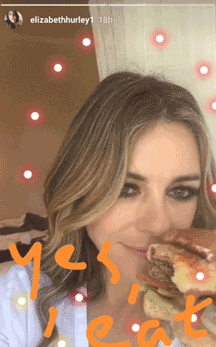 The 52-year-old ex-Supermodel has an amazing physique and has now revealed that she doesn't deny herself a cheeky burger despite priding herself on her enviable curves…
The Royals star took to Instagram earlier this week to share a clip of her chowing down on a juicy burger and captioned it: "Yes, I eat".
Oo-er!
Liz has spent the summer sharing lots of sexy bikini pictures with her fans and while she's happy to have a cheat meal every now and then, she admits to watching what she eats to stay trim.
She previously said: "I have to be careful because I am 50.
"I always watch what I eat, but I eat plenty of food. I don't do all that green juice, I don't do any of that… powders, I don't really take vitamins. I try not to eat too much for dinner."
Hugh Grant's ex says her main diet tip is not eating much before she goes to bed at night.
She told E! News: "I think that's one of the best diet tips you can have:
"Eat your food earlier on in the day, so you've got more time to digest it and your body can rest in the sleep period.
"I used to snack late at night because I was a little bit hungry before I went to bed… [but] I stopped doing that now."
When it comes to fitness, the mum-of-one says she doesn't lounge on the couch and credits pilates and yoga with keeping her toned.
Well burger me!