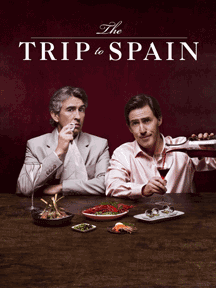 This week BiLA's lucky key members enjoyed an exclusive screening of Rob Brydon and Steve Coogan's latest installment of their hilarious 'Trip' series…."The Trip To Spain" at the private members club NeueHause on Sunset Boulevard. For the uninitiated, comic actors Brydon and Coogan have now made three of the acclaimed movies, which are shown in serialized form in the UK. The pair travel by car to various foodie destinations (the Lake District in the original, and Northern Italy in the sequel), swapping quips, put-downs and impressions, with Michael Caine, Roger Moore and Anthony Hopkins among their favorite targets. All the while enjoying great food and wine and boning up on local culture. Their latest journey took them to the foodie paradise that is Spain, bringing the audience lots of laughs and plenty of salivating. Which is why the wonderful paella we all enjoyed up on the roof after the show was such a perfect ending to a great day. There will be many more fun experiences for BiLA Key Members throughout the year so. To learn how to become a key member, send us a message to info@britsin.la and we'll send you an application form. The Trip to Spain hits theatres this weekend. Check your local listings for times and locations.
We are very lucky in LA to be able to see some of the biggest names in music perform live. For instance we got to see Lady Gaga at the Forum for a spectacular show last week, followed by one of the UK's hottest new acts, Rag N Bone Man, in a much more intimate setting at the all-standing Fonda Theatre. The singer-songwriter (real name Rory Charles Graham), hails from East Sussex and burst onto the scene earlier this year with the release of his debut album Human. He was named British Breakthrough Act of the Year at this year's Brit Awards and looks to have a huge future ahead of him.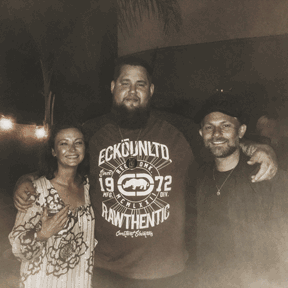 Eileen and I got to meet him afterwards and he was lovely. A real gentle giant and totally down to earth. If you haven't heard of him yet, trust me, you will. He is going to be massive. He has already been termed 'the male Adele' by the British music press. Check out "Human" on Spotify or iTunes. It's a formidable debut album.
We're closing in on the end of August but summer is definitely not over yet. Take advantage of the proximity of Santa Monica Beach to beat the heat, either by car or (even better) the MetroRail which will take you right into the heart of downtown SM. The whole area has been so drastically made-over these past few years, from the clean beaches, to the Pier, to the dining options at Third Street Promenade. But your best bet might well be the Annenberg Community Beach House at Santa Monica State Beach. It is a public beach facility built on the location of a now-demolished 110-room mansion that was built for Marion Davies by William Randolph Hearst, (the press baron on whom Orson Welles' Citizen Kane was based). The club is available to all via reservation and has a fabulous lido pool with changing facilities and showers and costs only $10 to get in. Totally worth it for those who seek the sun but prefer not to get sand stuck in their trunks and bikinis. For details visit annenbergbeachhouse.com. And a short stroll across the sand for a spot of lunch is the "Back To The Beach" cafe. Lots of great California cuisine and some great vegetarian options too.
And finally, our popular Pub Quiz returns this week to the Cat & Fiddle pub on Highland Avenue, just north of Melrose on the east side of the street. With the irrepressible quiz master Sandro Monetti you are guaranteed to have a good time, whether you arrive in a group or are flying solo.
Have a great week!
Craig.