Exclusive interview with author and restaurateur Craig Carlson discussing his new book about opening an American restaurant in Paris
By Gabrielle Pantera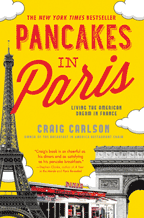 "If you'd known me as a kid, Paris would probably be the last place you'd think I'd end up," says Pancakes in Paris author Craig Carlson. "As a kid, France wasn't even on our radar. But all that changed when I took my first foreign language class in seventh grade. My dad had wanted me to take Spanish because we lived in the rough part of town, next door to a Puerto Rican family, and he wanted to know what they were saying about him. But in a funny little twist, when I told my teacher I wanted to take Spanish, two of the popular kids in class, Ann and Dan, overheard and said to me, 'Don't take Spanish; we're taking Spanish.' Even though I knew I wasn't the most popular kid in class, their remark still stung. But I shrugged it off, turned to my teacher and said, 'Ok. French then.' That serendipitous moment changed my life forever."
Pancakes in Paris is the story of ups and downs in Craig's quest to open the first American-style restaurant in Paris. Carlson came from a working-class town in Connecticut and had never worked in a restaurant. In Paris he found a new home. But he missed the big hearty breakfasts he grew up with in America. How about opening a restaurant?
In the book Carlson tells about the challenges of raising money, finding the perfect location, working within the rigid rules and regulations in Paris, and sourcing American ingredients for use at what becomes the restaurant Breakfast in America. While following his dream he also finds love. Founded in 2003, Breakfast in America becomes a hot tourist spot that's also frequented by locals.
I'd been wanting to visit Breakfast in America for a few years, and on Christmas Day in 2016 while I was in Paris, I ate breakfast there. Craig was charming, the food scrumptious. Carlson says his favorite breakfast at his restaurant is the CCs Big Mess, a breakfast scramble with nearly everything in it, served with a short stack of blueberry and white chocolate chip pancakes.
In organizing the book, Carlson thought about the many questions that diners at his restaurant asked him. How did he come up with the idea of opening the first American diner in Paris? Had he ever had his own business before? Did he already speak French? Had he worked in a restaurant before? Did he have to adapt the menu for French tastes? Was it hard finding the right ingredients? Did he encounter any cultural problems? Any anti-Americanism?
"The more I pondered these questions, the more I realized that the journey I had taken was quite unique," says Carlson. "And, that it might inspire other people to pursue their own crazy dreams. However, writing the book turned out to be a much bigger challenge than I expected."
In addition to being on several bestseller lists, Pancakes in Paris has been nominated by Expatriate Magazine for "Best Book in Paris 2017. The book has been optioned by a Hollywood production company.
Carlson is working on three projects now. He's adapting his book into a TV series, writing his next book, and writing episodes of the 3D animated children's show Alvin and the Chipmunks. The series is co-produced in France, where half the episodes are written. All in English. A woman who lives in Paris read his book and loved it so much she introduced Carlson to the head writer of the show in France. So far, Carlson has written three episodes.
Carlson spends most of his time in Paris with his diners and his French husband. They also own a little bungalow in northeast Los Angeles near Highland Park.
Carlson is originally from the small agricultural mill town of Enfield, Connecticut.
www.pancakesinparis.com
Facebook and Instagram: @pancakesinparis.com
Youtube Channel: pancakesinparis
www.breakfast-in-america.com
Facebook and Instagram: breakfast_in_america_1
Twitter: @biaparis
Pancakes in Paris: Living the American Dream in France by Craig Carlson.
Kindle Version. 322 pages. ISBN: 1492632120, Publisher: Sourcebooks. September 6th, 2016. Amazon ASIN: B01ENNQ22O, $15.99