Local Irishman erects life-size image of UFC star McGregor
A LOCAL Irish pub has taken Conor McGregor fight fever to new heights – by installing a life size painting of the UFC superstar on its ROOF.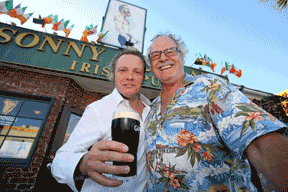 The giant canvas of the Dublin warrior towers above drinkers at Sonny McLean's bar in Santa Monica.
The billion-dollar fight of the century between UFC king McGregor, 29, and undefeated Floyd Mayweather, 40, takes place at the T-Mobile Arena in Las Vegas on August 26.
And as thousands of McGregor's Green Army prepare to make the trip to Sin City, locals at Sonny McLean's are also gearing up for the big fight.
Artist Carl Roberts, 48, took nearly a week to create the artwork using acrylic paint and hopes to give it to the Notorious after the bout.
He said: "I've been painting boxers for years and many legends from the sport like Manny Pacquuiao, Amir Khan and Canelo Alvarez all have the paintings I've done for them.
"Manny has about 12 of them and I'm hoping I can give this one to Conor to keep when it's all over.
"I've been a boxing freak since I was a kid and own 40,000 fights on video and DVD.
"Conor's a brilliant ambassador for the sport of fighting. He's a showman of the highest caliber and I hope he can beat the odds and surprise Floyd. The painting is a tribute to what he's achieved."
But Beverly Hills bar manager Carl – who moved to the US from Monkstown, Dublin in 1991– is staying cautious when evaluating the UFC star's chances.
He said: "If Pacquiao, Hatton and Mosely struggled to hit Floyd then he'll have his work cut out for him – but I'm sure he's got a few surprises up his sleeves.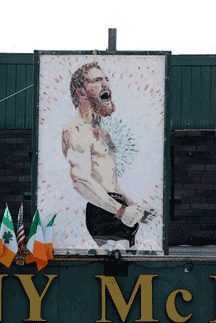 "I think we'll know in the first clench what McGregor's strategy will be. He could squeeze him in a Roman Greco style hold and I imagine he'll also be hopping all over the place.
"My money's on Conor because of the odds but my head is with Floyd because of everything he's achieved."
Sonny McLean's landlord Grant Woods, who is originally from New Zealand, has owned the bar since 2009 and is forking out thousands to show the fight to his patrons.
He said: "We'll be at full capacity of 200 and are expecting a great night in here.
"All Conor's previous fights have attracted a big following but this is something else in terms of excitement.
"When Carl showed me the painting I thought it was great and he asked if I wanted to put it on the roof.
"It's attracted a lot of attention from the locals and from people passing by who drop into say how good it looks.
"I just hope the fight goes on longer than expected so everyone gets good value for money."
(Courtesy: The Mega Agency)