Exclusive interview with author Jackie Kingon discussing her sci-fi mystery novel set on Mars
By Gabrielle Pantera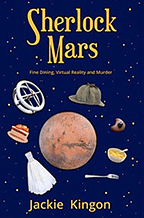 "Sherlock Mars opens with Molly owning Molly's Bistro, a very successful gourmet restaurant in New Chicago, Mars, its capital," says author Jackie Kingon. "Soon a virtual reality restaurant called Virtual Vittles, that has all the tastings of food with none of the calories, opens nearby. Molly worries that it might ruin her business. But when its patrons leave hungry they make a bee-line for Molly's Bistro. The inspiration for the book is a love of science fiction, a love of humor and a love of food."
The owner of the virtual restaurant is murdered in Molly's own kitchen. An amateur sleuth, she is determined to find the killer. However, it's not without distractions. Her staff is in-fighting, she's planning her pop star daughter's wedding, and her friend, a cyborg, has the mob out to get him. On top of all that, The Cereal Serial Killer has escaped from Pluto and is on the loose again. Just another day at Molly's Bistro on Mars.
Sherlock Mars is a comic sci-fi mystery with many of the characters from Kingon's first book Chocolate Chocolate Moons. Molly Marbles Somers had left Earth, where she weighs 287 pounds, to go to college on the moon where she only weighs 47.6 pounds. She marries Cortland, a moon business speculator. Molly and their twin daughters move to Mars. Together with Mars Yard she solves the crime of who poisoned Molly's favorite candy Chocolate Moons. Her daughters, Becky and Lois tease her that she should be called Sherlock Mars. Sherlock Mars picks up with Molly opening her restaurant on Mars.
"I think there are too many books and movies on the market that portray a dark future," says Kingon. "I sincerely think that in the long run the future is very bright. Peace on Earth and good will toward men and all that entails. But that is in the far future. Not in the next hundred years. Scientific advances will eliminate most if not all diseases. The most interesting thing that has happened as a result of writing the book is the meeting of some very interesting people who share my love of upbeat science fiction."
"I had to research Mars geography and learned about terraforming a planet," says Kingon. "Thank goodness for the Internet. I found everything I needed on the Internet.
"Kim Stanley Robinson's Mars trilogy was a great inspiration. My books take place in a Blue Mars universe similar to the one he wrote about. My inspiration was to solve the crime, give good food a plug and enjoy trips to space where there is a luxury hotel called Nirgal Palace. Nirgal Palace is complete with a swimming pool that gives the illusion that one is swimming in space."
"There is much to say about the prejudice experienced by androids," says Kingon. "Molly's best friend Jersey is the first human to marry an android. There are protests with people carrying signs that say, Go Back to OZ Tin Man."
Sherlock Mars is Kingon's second novel. Her first book, Chocolate Chocolate Moons won a Readers Favorite Award. She also writes short stories. As a journalist she wrote the New York Times feature story A Year in the Trenches, about her experiences teaching in the South Bronx in a dangerous elementary school. Kingon also writes about autism. She has a grown autistic son who now lives independently and is a professional pianist with the Alvin Ailey Ballet Company.
Kingon is also a painter. She's exhibited with the Donahue Sosinski gallery and Dactyl Foundation in New York City, at the Washington Project of the Arts, Washington, D. C. and the United States Embassy to the European Union in Brussels, Belgium. Three of her watercolors are part of the Estee Lauder collection.
You can find more about the author online at www.jackiekingon.com.
Sherlock Mars by Jackie Kingon. Kindle version. 258 pages. Publisher: Guardbridge Books. August 9th, 2016. Amazon Digital Services LLC. Language: English. ASIN: B01K625HG8