Did you all enjoy the Great American Eclipse?
Don't worry if you missed it, as this once-in-a-lifetime opportunity will happen again in seven years! So lets start the countdown to the United States next total solar eclipse on April 8, 2024.
I hope you have all been enjoying the Air New Zealand/Brits in LA discount codes as much my friends and family have? Craig and I must have had at least twenty visitors between us over the past few weeks. This week it was the turn of his sister Sharon to grace us with her presence. We have got our tour guide routine down pat now. It usually kicks off with a weekend in the desert (visit Brits in LA Housing group on Facebook if you are looking for a place to rent), then on Tuesday the Brits in LA Breakfast at Cecconi's is an obviously must, as is our weekly Pub Quiz at the Cat & Fiddle.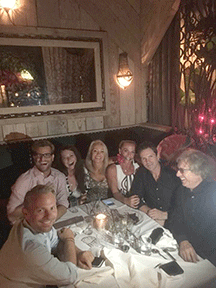 The infamous Pump restaurant in West Hollywood always tickles the fancies of our British visitors and they occasionally get to rub shoulders with the infamous owner who just happens to be Real Housewives of Beverly Hills and Vanderpump Rules star Lisa Vanderpump. If she isn't around you can always buy a souvenir from their gift shop to prove you were there. I actually think they should start raising a British flag if she is in residence.
One issue we often have with out of town visitors is transportation; I am sure I am not alone in feeling guilty at having to go to off work knowing that they are not getting out as they are a bit daunted to go out alone. Buses aren't always the best use of time – many years ago my brother came out for a visit, and I stupidly suggested he take a bus from Hollywood to the old Getty Villa on the PCH, not realizing that it would turn in to a six hour round trip!  Renting a car can be a great option (Express Rent a Car in Tarzana not only rents to under 25s but also has cheap rates that are a little over $20 a day!) However, not everyone feels comfortable driving in a foreign country, whether it be for financial reasons, fear of being on the wrong side of the road, or just not in the mood – that is when Uber is a great option. It can be a bit tricky as you do need a smart phone with cheap internet access. Another friend of mine ran up $100 in roaming charges trying to call an Uber taxi. Uber have now got a work around – they offer an option called the 'Family Profile' which means you can add people to a list and either book cars under your account on their behalf as well as keeping an eye on granny and making sure she doesn't get lost. You can also give them access to your account so if they do have internet they can call a cab through your account. Check with your internet provider as they may well offer access to public hot spots around the country that you can also give your guests access to.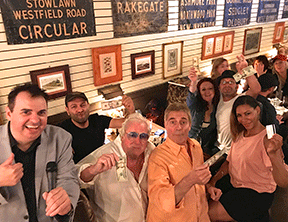 We would love to hear your tips and tricks on how you like to make your visitors stay a little easier – either email us at BritsinLA@gmail.com or post on our Facebook page @BritsLoveLA.
And a big word of thanks to Lane who shared her 'Farmers Market Finder' app with us – it claims to cover the whole of California but I have not had a chance to put that to the test yet, but the local listings are spot on.
Lastly, I would like to say congratulations to the 'Numb Nuts' who came first (again) at Pub Quiz this week – surely there must be a group of you who can come along and keep them off the top spot next Tuesday?
Cheers!
Eileen