Meet Suzanne Levy from London who moved to LA four years ago to pursue 'a sunnier and more creative life!'
Was there a particular reason you chose LA?
We were living in New Jersey, and my partner was offered a job in LA. I thought "well, I like palm trees and the ocean, and it's a great place for creative types, so I'm in!" I've been working here as an editor in public radio – NPR shows like "Weekend All Things Considered" and "Marketplace". I'm also building my resume writing business. I really enjoy working one on one with people so their resume highlights their strengths. There are too many bad resumes out there!
What  do you miss most from home?
Pickled onions. Radio 4. Drizzle (LA is very parched!). Crumpets with lemon curd. My mum's roast potatoes. That sense of being "home".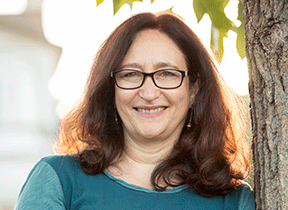 What was your first impression of LA and has it changed since? 
My first impression was "this is a gorgeous place, surrounded by oceans and mountains, but all these strip malls are so ugly!" Now it's funny – I just don't notice the buildings anymore.
What do you find the biggest difference is living here versus London?
The laid back, sunny optimism. When I was last back, I was struck by two older women on the tube, sitting there in cardigans with arms crossed, mouths pursed. Here, it's like "hey, the weather's good, surf's up, farmers market has great fresh apricots – what's there to worry about?"
Do you have a hidden gem in LA that you want to share with us?
It's not so hidden, but I went to the Perch (448 South Hill Street) in downtown LA recently. Great vibe, great food and an amazing view (It's on the top of the building).
What would you suggest to others who are thinking about making the move here? 
LA accepts everyone it seems, so don't worry about feeling like an outsider. Understand that you won't be walking, you'll be driving. You get used to it, but it takes time. And because it's so spread out, it's hard if you're someone who likes to "pop in" on people. You just don't here. Unless your neighbor becomes a close friend. And while there is a section of society which really, really cares about how they look, most people are pretty laid back and chilled about appearance. T shirts and jeans are perfect workwear.
Lots of our members join our group Brits in LA seeking out words of wisdom – what is the best piece of advice you've been given? 
When I was going through a hard time, someone said "in the long arc of your life, this is just a blip." That helped. And in terms of LA, someone else told me: "Relax. Don't feel you have to rush to the beach to grab the sun. There'll be another beautiful day tomorrow."
Lastly, how can we find out more about you? Are you working on anything at the moment?
I have a passion for helping people with their job hunt. So check out my website maximumimpactresumes.com. I'm currently offering a free resume assessment, no strings attached. (I see it as a service to the community). I know it's hard for Brits to toot their own horn, so I'm here to help!