Exclusive interview with author Christine Johnson discussing her novel set in 1846
By Gabrielle Pantera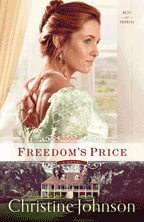 "My curiosity was piqued by the true story of a young woman who came to America from Germany in 1856," says Freedom's Price author Christine Johnson. "Her ship was caught in a hurricane and wrecked on a reef off the Florida Keys. She fell in love with the wrecker, a ship salvager, who rescued her. That got my imagination going. What if the heroine of my book came from England instead of Germany? What would prompt her to make such a life-altering decision? It's not like today, after all. In 1856, she would likely never see England again."
The book opens with Englishwoman Catherine Haynes, who has already lost both parents, caught in a hurricane as travels to America. She is saved from shipwreck off Key West but on arrival at the family's Louisiana plantation she finds no one there. The place is in a shambles. With the help of Tom Worthington, who makes his living salvaging wrecked ships, she will try to make it a home. Freedom's Price, which is part of the Keys of Promise series, shares with the other books in the group a strong foundation in the history of Key West.
"Part of the research for the series involved spending a great deal of time in the historical collections housed at the Monroe County Public Library in Key West," says Johnson. "They house many documents, including the admiralty court records from the era. Alas, some of the information that would have been very useful was lost to hurricanes and fires over the years."
"My favorite part was the hands-on research of finding historical locations, such as a home from the era, and then searching for elements in the location that still remain from the 1850s or earlier," says Johnson. "Since many are museums, the docents and caretakers often offered additional information that I wouldn't have thought to ask. It can be challenging to mentally recreate how a place must have looked, smelled, sounded, etc. 150 years ago. The Key West of today is nothing like the Key West of the 1850s. Even the shape of the island is different. Exotic species have been added, so botanical gardens were very helpful in discerning what might have been growing on the island in the mid-19th century."
Freedom's Price is a Christian faith-based story which is also set partly in Louisiana, near New Orleans with plenty of nautical settings involving sailboats and paddlewheel steamships.
"It's less a question of weaving in a faith thread, and more a matter of building characters whose faith is important to them," says Johnson. "Then, especially when under duress, their faith will be a key element in the decision process. If a character is struggling with faith, it's also a large element in their thinking, because he or she will be struggling to figure out how faith fits in with what is happening. In this book, the theme of freedom from bondage, from spiritual to physical, grew organically out of the characters and situations."
Johnson has written three books in the Keys of Promise series: Love's Rescue, Honor Redeemed and Freedom's Price. She has written twelve books for Love Inspired Historical, for which she has won the Laurel Wreath and the Write Touch awards. She is currently finishing the last book in that series, which will be released in December.
John and her husband are based in rural Michigan, on the shores of Lake Huron, and in the Florida Keys.
Freedom's Price by Christine Johnson. Series: Keys of Promise (Book 3). Paperback: 336 pages. Publisher: Revell. June 6, 2017. Language: English, ISBN: 9780800723521 $14.99