Greetings Britlings!
Last week's musings from Eileen about good places to take visitors got me thinking about my own visitors from overseas. If you are like me you probably have a lot of visitors throughout the year, and some that repeat, so finding new things for them to do and enjoy can be a challenge. How about Disneyland, or Universal, Venice Boardwalk, Santa Monica pier? Oh look there's the Hollywood sign!!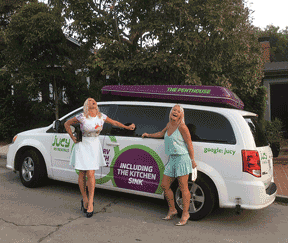 Been there, done that?
My sister Sharon and her friend Audrey were recently over for a fortnight and opted for another classic American adventure; the road trip. They rented an RV and set out to discover our beautiful West Coast. They booked through Jucy RV, the small RV specialists (www.jucyusa.com) where prices start at around $45/day (depending on the season, dates and availability). They upgraded to a Trailblazer RV – which is the size of an SUV but with a penthouse extendable sleeping compartment on the roof. The RV includes a mini fridge, a stove top, two very comfortable double beds and bedding (sleeps up to 4 people), towels…and it even includes the kitchen sink.
The gals decided on a four-day trip down the coast heading towards San Diego. First stopping in Newport Beach at Crystal Cove campground, (www.crystalcovestatepark.org) It's pretty new and a great location overlooking the ocean. There are over three miles of beach to explore and 2,400 acres of backcountry wilderness. It's family friendly and well-equipped for about $50 a night to camp ($75 if you need electricity). But beware of the locals: the ranger informed them to look out for coyotes, rattlesnakes, wildboar and BUNNY RABBITS – which of course got a huge giggle from the girls.
From there they headed south to San Clemente, where they found a lovely camping spot up on the bluff overlooking the ocean. Sharon told me going to sleep while hearing the waves crash on the shore was pretty spectacular – this place also has fire pits, picnic tables and shading from the sun. (parks.ca.gov).
The next day their journey took them a little more inland, as they stayed at the La Jolla Indian campground (22000 Hwy 76 Pauma Valley, CA 92601 – info at www.lajollaindians.com). This is a great spot for hiking and the smell of the outdoors. The place also has a really quaint coastline with a lot of beach activities available, from surfing, canoeing and paddle boarding and some of the best snorkeling in Southern California, if that floats your boat.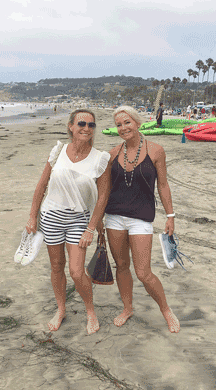 The final night the pair drove to San Diego, staying at Sunland RV resort, (sdrvresort.com) which has a pool for those afraid of the ocean – (anyone seen Jaws?) Prices starts at around $77 a night. They took lunch at the famous Del Coronado Hotel, where the Jack Lemmon/Tony Curtis/Marilyn Monroe classic "Some Like It Hot" was filmed. They found the best way to explore San Diego was by renting the City Bikes. ($15 for two hours) They also had a lot of fun shopping and eating in the Gaslight district.
All in all they thoroughly enjoyed the experience and can't wait to come back and explore the Northern route of California, to visit places like Ojai, Santa Barbara, Carmel, and San Jose. So until then, Happy Camping!
If you are inclined to take a tent and get out there, don't forget the essentials: a couple of flashlights (with spare batteries), a whistle, tons of bug spray and a charger for your phone, just in case you get a chance to capture those deadly bunny rabbits!
Happy Trails!
Craig Young.