by Franz Amussen
FANS OF CHARLES DICKENS (and who isn't?) will not want to miss the American premiere of Mike Poulton's acclaimed and popular adaptation of A Tale of Two Cities, which starts previews September 3rd (ahead of their September 9th opening) and runs through November 19 at A Noise Within in Pasadena.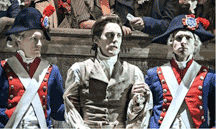 Since its publication 158 years ago, more than 200 million copies of A Tale of Two Cities have been printed – making it the second bestselling single-volume book of all time (the first is Cervantes' Don Quixote.
Set in London and Paris before and during the French Revolution. A Tale of Two Cities (1859) depicts the plight of the French peasantry demoralized by the aristocracy in the years leading up to the revolution, the corresponding brutality demonstrated by the revolutionaries toward the former aristocrats in the early years of the revolution, and many unflattering social parallels with life in London during the same period.
While A Tale of Two Cities is always timely – its famous opening words "It was the best of times, it was the worst of times … it was the spring of hope, it was the winter of despair" don't let us forget that idea — it speaks directly to America now.  Peter Temin, MIT Economics Professor wrote, "America is two separate economic and political worlds and has a remarkable commonality of socio-economic-political similarities to King Louis XVI's France (beheaded at Place de la Concorde, Paris, Jan. 21, 1793) … one America is 20% of the population: finance, technology, and electronics citizens that enjoy topflight educations, the best jobs, social networks that work on their behalf, and plenty of money, lots and lots of money."
"Rarely do they visit the country where 80% of Americans live, i.e., the low wage sector in and around cities, whether suburb or inner city. This totally different world lives in shrinkage, not growth. Its inhabitants wear an anvil of burdensome debt, work insecurity, sickness without decent medical care and dying younger than (their) parents … and when they get sick, quite different things happen."
Playwright- adaptor Poulton is best known for Wolf Hall, Bring Up the Bodies and Fortune's Fool and his plays and adaptations have been seen on Broadway, in the West End, at the Royal Shakespeare Company, the Theatre Royal, and – as was the case with this new adaptation – on tour throughout Great Britain.
The Guardian said the show's UK incarnation "felt like a smash-and-grab raid on Dickens's text," adding " Such relentless pace, matched by the dynamism of James Dacre's staging, keeps this Tale of Two Cities fresh. It should, by rights, feel doughy and dusty, with its handsome tailcoats, powdered perukes and, at one point, a painted scenic backdrop that might well be a Victorian original.
"Instead, as the French revolution takes hold, Poulton builds up the terminal velocity of a political thriller. The actors, who get no time to indulge in stock Dickensian caricatures, tackle their lines like tongue-twisters and the effect is like speed-reading Dickens by flickering candlelight."
The show will be performed at A Noise Within's stage at 3352 E. Foothill Boulevard in Pasadena. The theatre is within walking distance of the Sierra Madre Villa metro stop. Tickets start at only $25 and can be bought by visiting anoisewithin.org