Exclusive interview with editor Martin Edwards discussing his latest classic crime story anthology
by Gabrielle Pantera
"From a reader's perspective, it's great to read the old favourites," says Continental Crimes editor Martin Edwards.
"But, one of the special joys of an anthology is the chance to discover interesting writers for the very first time. I've edited several anthologies of classic crime stories for the British Library as part of their highly successful Crime Classics series. Each of the anthologies has a different unifying theme. I'd published collections featuring London mysteries, holiday mysteries, country house mysteries, rural mysteries, and so on, and I was casting around for a fresh idea. It struck me that it would be fun to gather crime stories written by British authors but set in continental Europe."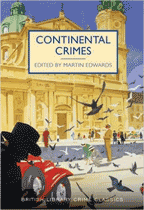 In this collection are forgotten stories by classic writers including Agatha Christie, Arthur Conan Doyle, G.K. Chesterton and J. Jefferson Farjeon. Some of these vintage crime tales are set in cities, some in small hamlets and others in castles that have seen better days.
"The challenge then was to find the right mix of stories," says Edwards. "I like to blend familiar authors with those who are less well known, although highly talented. So Arthur Conan Doyle, G.K. Chesterton, and Agatha Christie make an appearance, and so do H. C. Bailey, Josephine Bell and Fryn Tennyson Jesse, fine writers who are more or less forgotten nowadays. But even with stories by the stellar names, I aim for the unexpected."
"So for example, Doyle's story doesn't feature Sherlock Holmes," says Edwards. "Christie's features her relatively forgotten character Parker Pyne. I'm also keen to blend different types of crime stories, and different styles of writing. E. Phillips Oppenheim, for instance, approached his craft in a very different way to Michael Gilbert. The final ingredient which I hope supplies a pleasing element of variety is that the stories are set in different periods, ranging from the late nineteenth century to the 1950s."
Edwards read old magazines and anthologies to find stories that offered the right mix of diversity and quality. Edwards also wrote The Story of Classic Crime in 100 Books, a non-fiction book which traces the development of the crime story over the first half of the twentieth century, from The Hound of the Baskervilles to Strangers on a Train.
"One of my aims is to introduce readers, even those who are lifelong crime fans, to novels and authors they may not have encountered before," says Edwards.
Edwards has eighteen published crime novels, including seven contemporary whodunits in the Lake District Mysteries series, and most recently The Dungeon House. He's written over 60 short stories and has published eight other non-fiction books and many articles. The Golden Age of Murder won the Edgar, Agatha, and Macavity awards and the HRF Keating Award. He recently received the Poirot award for my contribution to the traditional mystery, and in the UK won the Short Story Dagger and the CWA Margery Allingham Prize. Many of his novels and The Golden Age of Murder have been optioned for TV, but so far none has been produced.
Edwards edited Continental Crimes on his own, consulting with friends who made suggestions about stories to consider.
"I'm lucky in my publishers both in Britain and the U.S.," says Edwards. "The British Library team are great to work with. Poisoned Pen Press in the U.S, are long-term friends…hugely supportive of my work."
Edwards is currently writing a novel set during the era of classic crime, in 1930. "It's not a pastiche Golden Age whodunit," says Edwards. "It's a thriller." After that, he's writing another book set in the Lake District.
Edwards was born and still lives in Cheshire in northwest England. For more on the author visit martinedwardsbooks.com and follow him on Twitter @medwardsbooks
Continental Crimes editor Martin Edwards. Series: British Library Crime Classics. Paperback: 313 pages. Publisher: Poisoned Pen Press. August 1, 2017. Language: English. ISBN: 9781464207488 $12.95