The United States doesn't look like the safest place in the world right now, what with Hurricane Harvey in the rearview mirror, Hurricane Irma on the horizon and wildfires closer to home here in Southern California.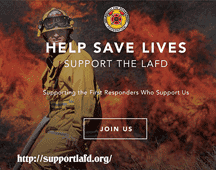 The Brits in LA team have had several messages over the last week from concerned friends and family checking on our safety. And while I'm lucky enough to have not been affected by the latest catastrophes but I know many of you haven't been so fortunate. You can never be completely prepared for natural disasters but there are certain preventative measures that you can take. Brush clearance to help stop fires spreading is mandatory. Are you renting and worried your landlord isn't doing enough? Or perhaps you are concerned about a neighboring property? You can check whether they are in compliance or if there has been a recent inspection by visiting ngbrush.lafd.org.
We recently met up with fireman Anthony Dixon, who runs emergency preparedness classes. He said he was astounded how so few people bother to take out renters/contents insurance. I do have it personally and it costs me about $50 extra a month – a few years ago I had the entire contents of my storage locker stolen and was so relieved to be insured. It was really surprising to me how much it cost to replace everything. My basic household items like pots, pans, plates, cups, towels and bedding ran into the hundreds. Anthony did say it is worth checking with your landlord as often they have added renters insurance to your lease. If you want to explore your options get in touch with our insurance expert Adam Beach (adam@beachfinancialgroup.com).
He can also advise on travel, health, auto and life insurance at no extra cost to you! And as a financial advisor he can help you with pensions (UK & USA) and various other money matters. It is wise to get your house in order to be ready for the  'just in case' scenario. We are planning to host a free earthquake preparedness class with Anthony Dixon soon, so email us at info@britsin.la if you would like to attend.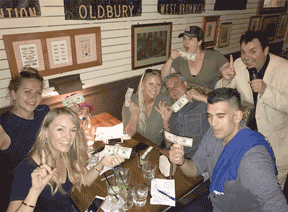 Our amazing and brave firemen have been working overtime recently, as they have not only had the La Tuna Canyon fire to combat but they also sent dozens of Los Angeles firefighters to Texas to help with search and rescue efforts after Hurricane Harvey slammed into the Gulf Coast. A team of 70 firefighters, 10 members of a support crew and four dogs were activated by FEMA to deploy to Texas, said Los Angeles Fire Department spokeswoman Margaret Stewart.If you would like to show your gratitude visit supportlafd.org.
Which brings us to the growing crisis from the other side of the Pacific. North Korea are still playing with their missiles and I think we have probably all wondered 'What if….Anyone got a big bunker for us all to run to?'
I'm not overly concerned, mainly because it is seems so hard to comprehend.  But I was surprised to learn that whilst LA is 5935 miles away from the North Korean capital, London is actually closer at 5379 miles…so maybe we should be asking our British relations how they are doing…?
On a more positive note, congratulations are in order for Pub Quiz winners Sweet Chick who managed to knock team Numb Nuts off the top spot! If you think you have the wherewithal to beat the current champions come join us any Tuesday at 8pm at The Cat & the Fiddle Pub on Highland Avenue just north of Melrose. If you are coming solo make sure to introduce yourself to our resident host Sandro Monetti and he will find you a team to join. Not all questions are British-based so it will pay off if you invite your non-British friends along.
Hope to see you all soon…and stay safe out there!
Cheers… 
Eileen