Girls just wanna have fun… but since when have THESE TWO been party pals?
40-year-old British socialite and model Lady Victoria Hervey was spotted messing around and taking selfies with friend and top fashion designer Nikki Lund in Los Angeles earlier this week.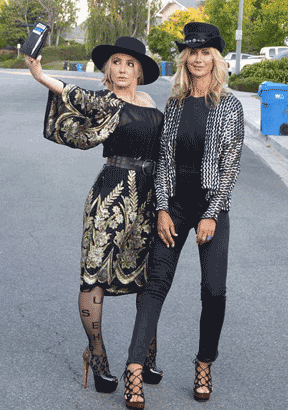 The luscious pair were on their way to a birthday party for Courtney Sixx, the wife of American musician Nikki Sixx, when they captured were rolling around the lawn sharing a laugh.
The two blondes arrived styled in rock'n'roll chic. Lady Victoria wore an all-in-one black jumpsuit finished off with a silver sequined jacket, designed by 'Custom' Nikki Lund, finishing off the slim-fitting outfit with a black top hat.
US fashion designer Nikki looked in fantastic shape after welcoming her precious bouncing baby boy Hendrix into the world only six months ago. 35-year-old Lund (who grew up in Calabasas with best friend Kim Kardashian) chose a more eclectic look, with alphabet tights and a black dress combo, topped off with a cowboy-style hat.
Both women were keen to pose for selfies as they headed to the bash.
Victoria has long been a gossip column staple in the UK and has never been one to shy away from the cameras. And she recently hit the small screen in the reality TV series Living with Lady Victoria.
And Nikki really put herself on the fashion map when she partnered with entrepreneur/ consultant Greg Writer; Bernt Ullman, who co-founded Star Branding with fashion designer Tommy Hilfiger and Joe Simpson, the father of pop star Jessica Simpson. Joe previously helped establish The Jessica Simpson Collection fashion line that has roughly $1 billion in annual sales.