Exclusive interview with author Nicola Perry discussing her London walking book
By Gabrielle Pantera
"When you're born in London, you don't necessarily do the touristy things," says Nicola Perry, author of 33 Walks in London That You Shouldn't Miss. "That is something out-of-towners do, or how we like to look at it. And getting lost is a definite no-no. The real, personal inspiration though goes back ten years, when a Czech friend introduced me to her pocket of West London. My friend and I would wander for hours along the tree-lined avenues and mews streets of Holland Park and Kensington. In those early days of discovering west London, I loved the feeling of not being the one leading the way and, for the first time, to feel guided to unknown places."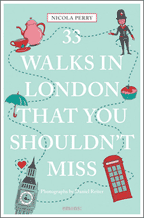 Nicola Perry is a London native who takes us on 33 walks that are different from the well-known attractions. She shares historical anecdotes, tips and unexpected neighborhoods, meandering through alleys, squares, lesser known monuments and markets. There are small charming boutiques to explore, details of places to eat and more than 250 color photographs. This book is part of the 111 Places/111 Shops series published by Emons.
"Attending an event where Emons' publishers were speaking, I was impressed by their vision for their travel series," says Perry. "They wanted to produce regional travel books that spoke to locals and visitors alike. By then, Emons had already published two books on London. I approached them with the idea for a book on walks and a sample chapter. I was delighted when they commissioned me to write the book."
Perry says that two of her favorites are the two inter-connected walks between west and southwest London, crossing over unseen borders, The Art Lovers Walk and The French Quarter Walk.
"Starting out early from Ladbroke Grove, I'd recommend sampling the crazy-loud, vibrant market on Portobello Road before commencing the walk," says Perry. "I enjoy juxtaposing walks. Moving from Portobello's international vibrancy to the more rarefied enclaves of the Holland Park area and the park itself. Where one walk ends, the other begins…The French Walk. Again, it is the residential architecture that attracts me; with a newly discovered row of pastel-painted mews houses to appraise at each cobblestoned turn."
"From south Kensington, I would recommend walking the length of Exhibition Road, dipping into the museums along the way, before crossing over to Hyde Park," says Perry. "And then simply wander. Leaving by any exit, which takes your fancy, and lose yourself for a while."
Perry's advice for anyone wanting to learn more about their neighborhood or exploring while traveling is to house share with people who have lived in the area for years, or Airbnb, speak to local merchants to ask for their recommendations.
"A neighbourhood's people are its local color," says Perry. "So, get speaking with them. One introduction surely leads on to another and another. Immerse yourself. Follow advice. Pay attention. Keep sampling what's put in front of you."
"I went to the best source there is," says Perry. "People. Locals. I asked friends to take me on their favorite walks. An American friend who has lived in London for ten years gave me his tour of Mayfair. A Grenadian friend took me on a tour of the street art of Spitalfields. A local Muswell Hill boy gave me the tour of North London. It was wonderful seeing these places anew, through the lens of other people."
Perry says the list of documents she researched is too long to list. As a professional story liner, Perry has written storylines for dozens of books across the Young Adult, romance and crime genres. She co-wrote a film script optioned by the William Morris Agency. 33 Walks is her only travel book.
Perry is currently working on a collection of novellas, The Imaginary Lessons of Lost Men, and an animation series, The Baffling Shapes of Others.
Perry was born in London and recently moved to Norfolk.
33 Walks in London That You Shouldn't Miss by Nicola Perry. Series: 33 Walks. Paperback: 368 pages. Publisher: Emons Publishers. April 11, 2017. Language: English. ISBN-13: 978-3954518869 $21.99