Book: Queen Victoria's Mysterious Daughter: A Biography of Princess Louise
Exclusive interview with author Lucinda Hawksley, discussing her new biography of Queen Victoria's scandalous artist daughter
By Gabrielle Pantera
"Princess Louise is my third biography," says Queen Victoria's Mysterious Daughter author Lucinda Hawksley. "The idea for writing about her grew out of writing the first two. My first was on the Pre-Raphaelite model and artist, Lizzie Siddal. When I was researching her life story, the name Princess Louise arose for the first time and I wondered who she was. At first I assumed she was a foreign princess, as I couldn't believe an English princess would have been allowed to hang out in artists' studios and attend bohemian parties. But, on finding out more about her, I realized she was one of Queen Victoria and Prince Albert's daughters and a professional sculptor."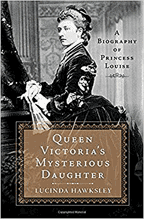 The book centers on about Princess Louise, who was Queen Victoria's sixth child. Her life was beset by secrets, rumors, scandals and her fight to be free of her mother's controlling ways. Louise really wanted to be an artist, not a princess. She wanted to study the art of sculptures at college which at the time was considered primarily a man's art, but Louise managed to get her mother to agree. She was the first British princess to attend a public school and also campaigned for women's rights and health reform.
Some of Louise's friends included Josephine Butler, the British feminist and social reformer, and the novelist George Eliot, who was actually Mary Anne Evans, a poet, journalist, translator and one of the leading writers of the Victorian era. There were rumors of an affair with her sculpting tutor Joseph Edgar Boehm and Liko, husband of her sister Princess Beatrice.
When Princess Louise did eventually marry, it was to John, Marquess of Lorne, the heir to the Duke of Argyll, who was named Governor-General of Canada. Louise suffered an unhappy time in Ottawa, and returned to Britain in 1883, where she lived until her death in 1939.
Hawksley spent six years searching through archives and letters and diaries, recording interviews with people who had family connections or memories and traveled in the UK and to the U.S. and Canada.
"While writing the book, I was lucky enough to be permitted a summer residency as a Fellow of the Newberry Library in Chicago," says Hawksley. "So, I was able to research there too. I also visited historic houses all over Britain, including Windsor Castle, Kensington Palace, Osborne House and Inveraray Castle, and I drove around the UK to discover many of the places she lived in and visited, including her honeymoon cottage on the Isle of Mull, in Scotland."
Louise's previous (second) biography was about the portrait painter Katey Perugini, the artist daughter of Charles Dickens. Katey knew a lot of the same people as Lizzie Siddal, including Princess Louise. Other books by Hawksley include, The Writer Abroad, Bitten by Witch Fever, Charles Dickens and his Circle, Moustaches, Whiskers & Beards, March, Women, March, and What Makes Great Art. Queen Victoria's Mysterious Daughter has yet to be optioned for film or TV.
Hawksley's next book, Dickens and Christmas, is being published by Pen and Sword books, available in the U.S and UK in November 2017. She is currently updating her biography of the portrait painter Katey Perugini (née Dickens), re-releasing in 2018.
Hawksley lives in London. She will be appearing at the Dickens on the Strand festival in Galveston, Texas from December 1-3. A great-great-great-granddaughter of Charles and Catherine Dickens, this will be her ninth year at the festival.
website: www.lucindahawksley.com
Twitter: @lucindahawksley
Instagram: @lucindahawksley
Queen Victoria's Mysterious Daughter: A Biography of Princess Louise by Lucinda Hawksley. Paperback. 400 pages. Publisher: A Thomas Dunne Book for St. Martin's Griffin. Reprint edition August 22, 2017. Language: English. ISBN: 9781250130365 $16.99