Book: Perilous Prophecy
Exclusive interview with author Leanna Renee Hieber discussing her rebooted fantasy novel
By Gabrielle Pantera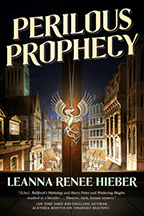 "This particular book is one that really comes from the depths of my soul," says Perilous Prophecy author Leanna Renee Hieber. "The Victorian setting for the first two Strangely Beautiful books has a vast backstory. What happens in the first books is a culmination of a divine legacy. I wanted to show that legacy, its sacrifices, its complications, from a divine and a mortal perspective."
An ancient prophesy predicts a great battle. Set in 1860 Cairo, we see the Egyptian capital as a vibrant mix of races and religions. Spirits and an evil ghost rise to roam the city. Six young men and women from different cultures, backgrounds, and faiths, all with developing superpowers, form The Guard. Their leader, British-born Beatrice, has doubts. Only eighteen, she's bookish and has been sheltered. All the guard need to learn to master their powers. Another guard, Ibrahim, is strong willed. Why is he not the leader?
A prequel to Hieber's gaslamp fantasy series Strangely Beautiful, originally published ten years ago, it's been edited and revised for publication by Tor Books.
"I loved the idea of a divinity just as bound by unpredictable circumstances as the mortals she guides," says Hieber. "Having this book be an inter-faith book was also very important to me, as loving faiths of every kind are a source of great joy and inspiration to me. I was delighted that little seeds I planted in the first two books really grew and flourished in this book, beauty and divinity in some of the smallest details. Out of all my books, Strangely Beautiful had been with me the longest in terms of germination, revision, and world-building."
"Every book I write is a learning experience," says Hieber. "The chance to rewrite this book was particularly instructive…seeing where I could grow as a writer with years of experience between the first edition and this revised volume."
Hieber does extensive research when writing.
"I consumed general history books about Cairo and relied on my ever-growing personal Victorian era reference library," says Hieber. "It's easy to get lost in the research process, so I had to be very specific about what I was looking for. I focused on what the story needed first, and researched what was pertinent in Cairo and then in London. I've been to London many times for research purposes. My favorite research room in the world is the New York Public Library's map room, an incredible resource, and maps of various periods are like Rosetta Stones to a region and its timelines."
"The Guttenberg Project is really invaluable for historic texts," says Hieber. "I was able to pull up many 19th century books about Cairo. But, I had to unpack the often racist and unhelpfully stereotypical language of English tour books of the era. It's important to understand bias in any source, especially cross-culturally."
Perilous Prophecy is a winner of the Prism Award for Best Fantasy Novel. This prequel is the third book in her Strangely Beautiful saga, and some of the characters make appearances in her other series. "All my worlds are parallel worlds," says Hieber. "So characters cross over from one to the next even though each is an independent series and storyline."
Hieber is a four-time Prism Award winner for excellence in the fantasy romance category. She is currently working on Miss Violet and the Great War, the final Strangely Beautiful novel. Next for her is The Ghost Precinct, a new series centering a group of mediums and ghosts working for the New York Police Department in 1899.
Hieber lives in New York City, where she works in television and as a New York City ghost tour guide. She was born near Cincinnati, Ohio. She will be at the Vermont Steam Expo the first weekend of November.  Her website is leannareneehieber.com
Perilous Prophecy: A Strangely Beautiful Novel by Leanna Renee Hieber. Series: Strangely Beautiful (Prequel). Paperback: 320 pages. Publisher: Tor Books. June 20th, 2017. Language: English. ISBN: 9780765377449 $15.99