Meet Sohm Kapila from Nottingham who moved to LA in January to pursue her acting and filmmaking career and has recently become part of the BAFTA Newcomer Program.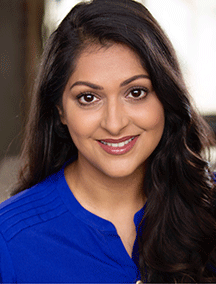 Was there a particular reason you chose LA?
I had visited a few times before and always felt as though I belonged here more than the UK. I felt more accepted and I also appreciated that the opportunities here were more engaging than some I'd been presented with in London.
What do you miss most from home?
Obviously my friends and brothers back in the East Midlands/London. And my Dad who has retired in Jaipur, India (Running his own Good Marigold Hotel – he always asks me to do a Dev Patel for him – be the tour guide!)
What was your first impression of LA and has it changed since? 
Ha! Yes. Because my first-ever night in LA was in Bootsy Bellows and the cast of Jersey Shore were there circa 2013, posing around the club, getting rushed by fans. Everybody in there had their best "bitch" face on, and I remember my drink being nabbed too – charming. I thought I'd never live here; what a load of…. A year later I did a casting course, and with half the class being British, well…obviously had a whale of time, and realised, it's not where, it's who. I've since made lifelong US/UK friends in LA who are really genuine, inspiring, down to earth people and from the heart.
What do you find the biggest difference is living here versus your time in London?
Sun, sea and the transport system. It being a lengthy process if you dare use it, hence why I am glad I love to drive. I was a 'boy racer' back home and learnt to drive when I was 16. Even had a car in London because I loved the freedom of being able to go wherever – whenever. Cue Shakira. I also love the hotbed of talent, and the willingness of artists to collaborate on projects, and help each other out – no matter what.
Do you have a hidden gem in LA that you want to share with us?
FireFly in Studio City is an old a fave of mine, and Laurel Tavern further down the road – I love that part of Ventura Blvd – so many bars/restaurants. I also like hanging out at the County Library in West Hollywood, and doing the cycle routes of Culver City.
What would you suggest to others who are thinking about making the move here?
Visit first! Come on a short holiday. Do a course. Or just soak it up for a month or two – but defo visit first. It's not for everyone.
Lots of our members join our group Brits in LA seeking out words of wisdom – what is the best piece of advice you've been given? 
"PERSEVERE" We all have knock backs, but in order to stay in the game you have to persevere. It's not always easy. But it's the best advice I've ever been given. Thanks Ray.
Lastly, how can we find out more about you? Are you working on anything at the moment?
Yes! I'm working on "Angels of Hollywood Blvd" the Movie, with co-writer Elizabeth Chase – a character driven story set in a family-owned car garage who face closure from a swanky highrise development, right in the heart of Hollywood where the homeless are ever growing.
We are currently working towards a sizzle reel for the screenplay and have an indiegogo campaign at www.igg.me/at/angelsofhb where you can support, share, and check out the awesome cast, crew and location we have secured – already 20 talented people are now on board for the shoot day! Check out the website here www.angelsofhollywoodblvd.com and thanks again for your support. Remember, no contribution is too small and no share goes unnoticed!
You can also find me at sohmkapila.com and on Instagram @sohmey