Who ate all the pies??! I guess now we know…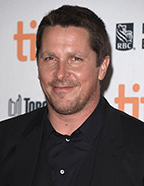 Christian Bale is known for being a method actor often going to the extreme to achieve authenticity in his big screen roles… And if this picture is anything to go by the 43-year-old Batman star is at it again as he has piles on the pounds for his latest film part.
The British hunk says he's been "eating pies" to play former US Vice President Dick Cheney in Adam McKay's upcoming biopic Backseat.
The production hasn't begun filming yet, but Bale revealed his new build and bleached eyebrows on the red carpet for the premiere of his latest movie Hostiles at the Toronto International Film Festival.
He looked much fuller in the face as he smiled for the cameras.
His new curvier frame was disguised by an all-black outfit as he posed happily with his wife of 17 years, Sibi Blazic.
She matched his outfit in a black lace dress, teamed with a pretty curled hairstyle.
Bale, famous for his dramatic shapeshifting over his long career has gone to great lengths to make his film parts authentic for his audience, he famously dropped down to just 120 pounds for his role in 2004 thriller The Machinist.
In the film he played Trevor Reznik, a man who suffers from insomnia so severe that its takes toll on his weight and mental health.
Straight after, Bale then gained 70 pounds for his role in Batman Begins.
Wow, he really goes the extra mile, doesn't he?
Backseat is currently in pre-production, with a release date not yet set.