Exclusive interview with author Nicola Cornick discussing her new novel about Elizabeth, the Winter Queen
Review by Gabrielle Pantera
Nicola Cornick's engaging new novel opens in Ashdown, Oxfordshire in the present day: Ben Ansell is researching his family tree when he disappears. As his sister Holly begins a desperate search, she finds herself inexplicably drawn to an ornate antique mirror and to the diary of Lavinia Flyte, a 19th century courtesan who was living at Ashdown House when it burned to the ground over 200 years ago.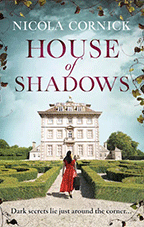 But that search takes Holly even further back. In the winter of 1662 Elizabeth Stuart, the Winter Queen, is about to die. She gives a legendary pearl, rumoured to have magic power, to William Craven for safekeeping. William orders the construction of Ashdown Estate in her memory and places the pearl at its center. One hundred and fifty years later, Lavinia overhears the maids at Ashdown House whisper of a hidden treasure. Her protector Lord Evershot is so desperate to find it that he burns the building to the ground.
"Elizabeth was the daughter of the King of England," says House of Shadows author Nicola Cornick. "Whilst Craven was the son of a self-made man who rose to great riches and success. There are rumours that a secret marriage took place between the two of them in the 1640s. This intrigued me and I wanted to find out more. It was a real life story that had the most amazing elements in it. My inspiration was the love story between Elizabeth Stuart, the Winter Queen, sister of King Charles I, and William Craven, a distinguished soldier and diplomat who was devoted to her service."
Cornick worked for the National Trust for fifteen years at Ashdown House, a beautiful 17th century hunting lodge in Oxfordshire.
"From the moment I first started working there the history of the house and the family who owned it absolutely fascinated me," says Cornick. "I knew that one day I wanted to write a book set there. I did a lot of research for House of Shadows, and it was a total pleasure. One of my favourite lines of research was studying 17th century art and the paintings in the Craven collection. Experts in art symbolism helped me to decipher some of the pictures and it was fascinating to read beneath the surface, particularly in the painting that is said to commemorate the marriage of Elizabeth and William Craven, the Allegory of Love."
For research, Cornick read contemporary letters and documents, particularly those of Elizabeth Stuart.
"Her letters show what an important role she played in 17th century history," says Cornick. "She was a stateswoman and her court a centre of culture. I viewed some of the documents in the National Trust's archives, plus some from the local records offices. I went to art galleries and particularly enjoyed trips to Holland and Germany to view art collections. And I visited Stokesay Castle and Coombe Abbey, and many other places associated with the Earls of Craven."
Cornick has won awards for her Regency historicals. Before writing dual time frame mysteries, she wrote historical romances, mainly set in the Regency period. She's written articles on historical non-fiction. House of Shadows has yet to be optioned for film or TV. A few years ago Cornick went to Hollywood to discuss two of her previous books with a film producer.
During her research, Cornick talked to writers and scholars on Jane Austen. "She had a link to the Cravens of Ashdown. Some of the family inspired characters in her books. I'm a huge Jane Austen fan, so this was a real thrill for me. I've given talks on the research behind the book, which is always lovely because I enjoy sharing my passion for Ashdown and its history."
Cornick's next book is a dual time mystery set in the Tudor period and the present. The book tells the story of Mary Seymour, the lost daughter of Queen Catherine Parr and Thomas Seymour. Cornick says that one day she hopes to write a non-fiction guide to Ashdown and the Craven family.
Cornick was born in Yorkshire and makes home near Wolf Hall and the Savernake Forest in Wiltshire. For more on the author, visit www.nicolacornick.co.uk
House of Shadows: A Novel by Nicola Cornick  Paperback: 432 pages. Publisher: Graydon House. October 17th, 2017. Language: English. ISBN: 9781525811388 $15.99