Exclusive interview with author Bonnie MacBird, her new Sherlock Holmes mystery features whiskey, ghosts, a beautiful woman and a rival detective.
Review by Gabrielle Pantera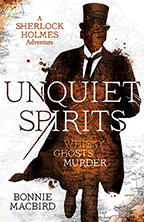 "I decided to fit my novels into chronological gaps in the original [Sherlock Holmes] stories by Sir Arthur Conan Doyle," says Unquiet Spirits author Bonnie MacBird. "That is, dates when other cases were not happening. There are many conflicting chronologies by scholars. I used Les Klinger's."
It's December 1889. Sherlock Holmes has returned to London after proving a ghostly hound was fake in Dartmoor. A beautiful client arrives with a tale of ghosts, kidnapping and dynamite on a whiskey estate in Scotland. At the same time, Sherlock's brother Mycroft has an urgent assignment in the South of France. On the Riviera, Holmes and Watson encounter rival detective Jean Vidocq, treachery and explosions. Sherlock's investigations merge in the Scottish Highlands. He finds himself the target of a deadly vendetta. To solve the mysteries, Holmes must face his own ghosts.
"Sherlockian superstar Les Klinger, whom I consulted while writing the first book, encouraged me, in fact kind of flung me, into the world of Sherlockian studies, clubs, and social events," says Macbird. "I'm not really a natural joiner of clubs, but then neither are most Sherlockians. He told me I'd make my best friends by coming out as a Sherlockian and he was right."
"When planning my series, I started the first novel, Art in the Blood by placing Holmes and Watson in post-Ripper London, December of 1889 when they were quite young, in their early thirties," says Macbird. "My second novel Unquiet Spirits, was set a year later, in the winter of 1889."
"Mystery is classically plot-driven, but character is the real heart and soul," says Macbird. "I knew I wanted to delve a little further into Holmes with each successive novel. Art in the Blood touched on the perils and gifts of the artistic temperament. But what would Unquiet Spirits examine?"
"Right about the time I was fishing for the main topic and theme of the book, a friend introduced me to the first whiskey I ever liked," says Macbird. "It was a port-matured whiskey from Glenmorangie. Out of curiosity I began reading about whiskey in Holmes's day and discovered that the rise of whiskey as a drink for society…and not just men out hunting and fishing…corresponded with this very same phylloxera epidemic and in fact was helped by it. Aha!"
In writing Unquiet Spirits, Macbird toured many distilleries, learned a great deal about Scotch, and made friends with a Scottish whiskey expert, Charlie MacLean.
Macbird began researching the main events, trends and topics of the day, looking online, at the British Library, at the Wellcome Library and through friends' collections.
Macbird says she tries to follow the writing style of Sir Arthur Conan Doyle.
"Conan Doyle was a genius, I think, in his character writing, his mystery construction, his subtle humor, and in creating the remarkably indelible characters of Holmes and Watson," says Macbird. "His style was striking in its time for his emphasis on dialogue, for its quick pace and sensationalist aspects, and for its lack of lengthy, poetic descriptions, and for something now called narrative drive, that ability to make us eager to turn the page."
Macbird has been involved in story editing and writing for thirty-five years. She wrote the sci-fi film classic Tron. She was a story editor at Universal Studios in feature films and directed plays. She ran a company that produced three Emmy-winning documentary films. She studied classical acting and performed in many shows in Los Angeles.
Macbird is currently writing her third Sherlock Holmes for HarperCollins, The Devil's Due. She is also adapting a Conan Doyle short story for the stage.
Macbird was born in San Francisco and grew up just south of the city. She now divides her time between London and Los Angeles.
Unquiet Spirits, Series: Sherlock Holmes Adventure by Bonnie MacBird, Hardcover 400 pages. Publisher: Collins Crime Club. October 10th, 2017. Language: English. ISBN-13: 978-0008201081 $25.99