THE CITY may be in the grip of Dodger fever  but there's also something for local rugby fans as this weekend Santa Monica beach will host the 5th edition of the Canterbury US Open of Beach Rugby, organized by Santa Monica Rugby Club and Canterbury USA.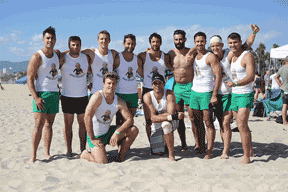 The event runs from from 10am until 5pm at the beach just south of the pier and is free of charge. Eighteen teams will compete featuring 200 players from over 15 different countries in two divisions (championship and mixed social). Sponsor brands handing out snacks/drinks including Snow Monkey Protein Ice Cream, Harmless Harvest Coconut Water, Health-Aid Kombucha, RX Bar, and more.
The event is organized by Canterbury USA: the world's number one rugby brand and Santa Monica Rugby Club, which was established in 1972 by rugby graduates of UCLA, USC and St. Mary's College. The club teams, known as the Dolphins, compete in the following divisions: California Elite Division 1 (men), So-Cal Division 1 (women), So-Cal Division 3 (men), U18 boys, U16 boys, U14 boys, U12 boys, U10 coed, and U8 coed.
For more information visit usopenbeachrugby.com or santamonicarugby.com.