This woman just does NOT seem to age! Yup, I'm talking about British model and actress Elizabeth Hurley… Who else?
The Royals star wowed her fans with a mesmerizing bikini display on social media that got them hot under the collar.
Oo-er!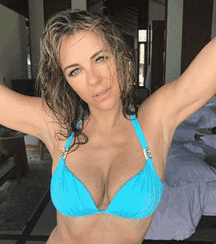 The latest Elizabeth Hurley Instagram post saw the 52-year-old unleash her amazing figure in a tiny blue bikini.
The blonde looked stunning as she showed off her ample chest in the minuscule top.
Her buxom cleavage exploded as her assets were centre-stage in the sizzling selfie.
Liz teamed the flesh-flashing display with dripping wet hair, which really cranked up the sex factor.
However, she was still rocking immaculate makeup.
This included lashings of mascara, which helped bring out her bright blue peepers.
Liz captioned the post: "Rise and shine."
It certainly made some fans' mornings, judging by the comments.
"As you have all your life you look incredible, @elizabethhurley," wrote one fan. "You're definitely one of the most beautiful women of all time." Another one added, "You still love to flaunt it, don't you! If it ain't broke don't fix it!"
One fan also gushed: "Wow, simply amazingly beautiful." While another add: "Like fine wine, better with age."
And a fourth branded the mum-of-one "a true MILF."
Hurley's ageless pics are renowned amongst fans. And the hot stunner certainly knows how to pull off that Baywatch look.
While relaxing in a hammock wearing another bikini – this time red-colored – Hurley says she "couldn't be happier."
Amen to that!