Exclusive interview with author Jacquelyn Middleton discussing her new novel about a playwright dealing with the success of her Irish actor boyfriend
By Gabrielle Pantera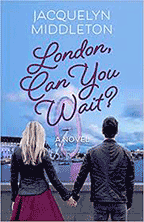 "I've always had this dream of running away to London," says author Jacquelyn Middleton. "I love stories about outsiders and people trying to figure out who they're supposed to be. So I combined the outsider theme with that desire to find oneself in a foreign locale and came up with London Belongs to Me. I felt like I had more to say with Alex, so I wrote its follow-up, London, Can You Wait?"
Alex Sinclair moved to London a year ago. A successful playwright, she has friends and a Irish actor boyfriend, Mark Keegan, who is starring in a hit TV show and his fame is growing. As he becomes more popular and is working more, Alex is unsure she's happy sharing him with fans, entertainment executives and the press. It all plays into Alex's insecurities. Can she learn to live with the fame Mark has gained?
"I remember when I was little, my mum had a set of coasters an aunt brought back from London with photos of Piccadilly Circus, Big Ben…all the usual tourist hot spots," says Middleton. "I thought they were the coolest things in the world. These two books explore theatre, friendships…online and in-person, panic attacks, and geeky pursuits like comic-cons. All topics that are very close to my heart. I still snap photos of phone boxes. I still make sure I see Big Ben on every trip. I still take a photo on every visit standing in front of the lions in Trafalgar Square. London never fails to impress or inspire me."
"Alex Sinclair, the twenty-something main character in my books, has that same determination I had growing up," says Middleton. "She's very similar to me, but in other ways she's so not. In many ways, I always felt like an outsider growing up. I was shy, suffered from anxiety and panic attacks, and achieved good grades in school. I always believed that I would find friends who 'got me' and I wouldn't have to change who I was to make that happen. And I'm happy to report I was right."
For research, Middleton uses Google streetview and maps, but always checks in person. "More than once, I found errors in what Google had told me, so it's always best to double check locales in person. I know London and Manchester, which also features in my books, quite well from repeated visits. I've been to London over thirty times and Manchester is in the double digits, too. So, I relied upon my own experiences in these places. I also spent much of my time during recent trips taking notes, snapping tons of photos, and basically walking in the footsteps of my characters. I also checked in with friends living in London and Manchester for some details."
London, Can You Wait? is the sequel to Middleton's debut novel, London Belongs to Me. She writes as a journalist covering health, travel, pets, pop culture, and lifestyle. She's been published in USA Today, Psychology Today, National Geographic Travel, Canadian Living, Chatelaine, the Toronto Star, Reader's Digest Canada, Flare, Today's Parent, and Best Health. She's won six national writing awards for freelance articles that focused on health topics.
     Middleton says she doesn't believe in having an agent, that she likes doing everything on her own. Caitlin Marie is Middleton's editor.
"I'm lucky because Kirkwall Books shares the same vision as I do," says Middleton. "So, there weren't really any challenges."
Middleton is currently writing her third novel, an adult contemporary story starring new characters, but some of the London characters may be included. Middleton will be at a book signing on November 10th at the Indigo bookstore in Toronto. Middleton lives in Toronto, Canada. She was born in Ajax a nearby town.
www.JacquelynMiddleton.com • Twitter: @JaxMiddleton • Facebook: JacquelynMiddletonAuthor
Instagram: JaxMiddleton_Author
London, Can You Wait? by Jacquelyn Middleton. Paperback. 454 pages. Publisher: Kirkwall Books. October 26th, 2017. Language: English. ISBN: 9780995211759 $14.95