Exclusive interview with Katherine Reay, discussing her novel about a woman whose friend has amnesia, imagining she's living in Jane Austen's England
By Gabrielle Pantera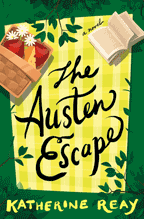 "Jane Austen is brilliant," says The Austen Escape author Katherine Reay. "You may like her writing or not enjoy it, but no one can deny her brilliance. She pinpoints human nature with unerring accuracy and gets to the measure of a person in a single line. Consider, 'I was given good principles, but left to follow them in pride and conceit…', hello, Mr. Darcy. Or 'Vanity was the beginning and the end of Sir Walter Elliot,' goodbye, Mr. Elliot. In fact, Austen is so influential that a 2013 study found her writing to have the greatest influence on modern authors. I gather some computer analyzed almost four thousand books and came to a conclusion that seems reasonable to me: we emulate Austen. But besides all that, I find her delightful. I love her characters and how they move across their stories."
In the book Mary Davies works as an engineer in Austin, Texas. She lives an orderly and productive life, enjoys her job and likes her co-workers. But when her childhood friend Isabel Dwyer contacts her, offering her a two-week stay in England, Isabel only reluctantly agrees, hoping the holiday will shake up her quiet life. It certainly does that – and more. Isabel loses her memory and believes she is living in Jane Austen's time in Bath, enjoying the life of a Regency lady. Others play along with Isabel's fantasy. Mary tries to help her. They share a past, and a man who is trying to come between them now.
"Inspiration from this story came from many places," says Reay. "One source was a C.S. Lewis novel. Another was a nonfiction book positing on how we become our best selves. That stuck with me. How do we become our best selves? What do we, or two young women, need to lay down or pick up to get there?"
Reay lived in London for an expat assignment for a couple years.
"I dusted off my memories of both London and Bath," says Reay. "I also did extensive research into electrical and industrial engineering. Much of that is not in the book, but it did form how Mary Davies, the heroine, thinks about the world and her place in it. I also did some research into all things Regency. That was fun…so many layers."
The Austen Escape is Reay's fifth book. She also wrote the historical romances Dear Mr. Knightley, Lizzy and Jane, The Bronte Plot, and A Portrait of Emily Price. Dear Mr. Knightly won several awards and The Bronte Plot was a finalist in the 2016 American Library Association Notable Book Award. The Austen Escape has yet to be optioned for film or TV. Reay turned down an offer early in her career for Dear Mr. Knightley.
Reay says each book goes through about three rounds of edits before final proofing. It is a seven-month process from handing in the manuscript to the final book. She is currently working on two new books, a nonfiction story about 'a woman's journey through the unthinkable', and a novel about three women who work together in a bookstore.
Reay lives north of Chicago. She's moved over seventeen times in her life, including to England and Ireland. She was born in her grandparents' home in Columbus, Ohio, while her father was serving as a doctor in Vietnam.
For more on the author visit here at:
www.twitter.com/katherine_reay
www.facebook.com/katherinereaybooks
www.instagram.com/katherinereay
The Austen Escape by Katherine Reay. Paperback, 320 pages. Publisher: Thomas Nelson. November 7th, 2017. Language: English. ISBN: 9780718078096 $15.99