When making a "couple comeback," you need to do it in style — much like our dearly beloved Brooklyn Beckham and Chloë Grace Moretz, who launched have their relationship reunion wearing in co-ordinated double demin outfits.
Oo-er!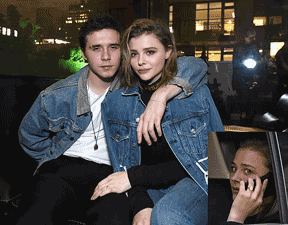 After a couple months of speculation, it's clear this celebrity pair are back together. The re-loved-up couple rocked up at an Xbox event in New York City recently and posed in photos together looking like one heck of a power couple.
Brooklyn worked a collared denim jacket and black denim jeans, while Chloë chose a remarkably similar jacket to the oldest Beckham kid and whacked on a pair of blue jeans to match.
Over the summer, Beckham was reportedly "crushing on" teen singer Madison Beer, but it apparently wasn't anything serious.
"I'm newly out of a long relationship…We definitely are, like, crushing on each other," Beer said in an AOL Build Series interview, "but we're both very busy…He's great, he's a cutie, he's one of my best friends…We hang out almost every day."
Also, we don't want to jump to conclusions, but Chloë is wearing a ring on the wedding finger, and zero other jewellery which at a closer glance you can see a letter 'B' enscribed in the gold piece of jewelry.
Is there a small chance that Brooklyn Beckham and Chloë Grace Moretz are engaged?! Though I doubt that very much, it is however a sure sign that this Anglo-American alliance is strong and the pair are surely enjoying a 'special relationship'!!