Hands up if you are LOVING this chilly weather!
It is one of my favorite times of year, probably because it makes me feel right at home. It is a welcome relief after the recent heatwave, which seemed particularly brutal this year.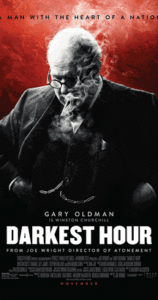 The majority of homes in Los Angeles use gas heating. In which case it might mean you need to relight your pilot light. If you aren't comfortable doing this yourself call the Gas Company to schedule a free visit. Do it now though, as they get very busy. I have had to wait almost a month in the past. Visit www.socalgas.com or call 1-877-238-0092 . Make sure to have your account number handy.
A big thank you to everyone who donated to the Poppy Appeal – at the time of writing this we have collected $158 from all of you over the past week – and there are still a couple more days to go! The money goes directly to the Royal British Legion.
November also means the start of the award season for Hollywood and next week at our weekly Breakfast Club at Cecconi's we will be giving out screening passes and coasters on behalf of the new film Darkest Hour. Film critic Sandro Monetti says Gary Oldman's portrayal of Winston Churchill in the WWII drama is a shoo-in for an Oscar nomination. I am going to a Brits in LA Key Member screening of the movie next week, so will let you know if I agree with him.
Earlier this week Craig and I joined a reception at the Consul General's Residence for the film Detroit, (based on a true story of a police raid in Detroit in 1967 which resulted in one of the largest race riots in United States history). The film is centered around the infamous Algiers Motel incident, which occurred on July 25th of that year) British actors John Boyega and Will Poulter both feature in the film (and were both in attendance at the reception) – the film is due to be re-released in Los Angeles on December 1st, so if you missed it first time around try and catch it then.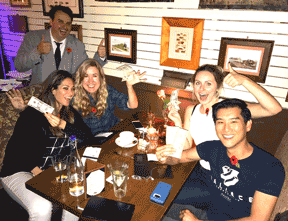 After the reception we stopped in at the Cat & Fiddle for our weekly pub quiz hosted by Sandro Monetti – Craig and I didn't do too badly considering we missed the first round (well, we didn't come last!) ATBGTSB were the winning team (too rude to print so will leave it up to your imagination..) Come join us next Tuesday (or any Tuesday) if you want to try your luck.
Visit us at www.Britsin.LA for details on our upcoming events or drop us a line at info@britsin.la
Cheers!
Eileen