AMERICAN singer Kelly Clarkson is plotting to hook up with red-hot British artist Sam Smith for a gospel record…
Oo-er!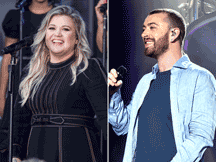 The 2002 American Idol winner has admitted she would love to collaborate with Smith because he is "such a great talent"and she has been a big fan of him since she heard him covering a Whitney Houston song.
The 'Since U Been Gone' hitmaker has heaped praise on Smith, and hinted a duet with the 'Writing's On The Wall' star could be on the cards if she has any say in the matter.
Clarkson, can vividly remember catching Sam cover the late Whitney's 'How Will I Know' and she was 'blown away' by his vocal talents.
Speaking to the Daily Star newspaper, Kelly said: "The UK have some great soulful, gospel singers. You have Sam Smith, and Adele killing it. Sam is such a great talent, I would absolutely love to work with him.
"He had me since he covered 'How Will I Know'. I was like, 'Excuse me – who is this boy right now covering Whitney Houston?' He is super super talented, I am so in."
Clarkson released her eight studio album 'The Meaning of Life' last week, and she is very proud of the LP because it is packed with live musicians.
She explained: "People really do crave that live musicianship that is on this album. I think the music industry is making a turn back towards that now.
"Sometimes you get three or four singles on albums, but I'm a fan of full records. Everyone could have been the lead single."
Her love for Smith doesn't stop there, the pop powerhouses took to social media back in Spetmeber to share their mutual admiration for one another, and it's adorbs.
"I met @samsmithworld & his entire crew of Sam's (and a Jack) today," Clarkson, 35, tweeted, calling the "Stay With Me" singer a "super sweet guy! Already loved his music, now I'm a fan of his person."
Smith, was quick to return the love, replying: "You are truly wonderful in every way Ms Clarkson. All my love forever and always. Hope to see you soon!!!!!"
Clarkson continued to gush about the British Grammy winner, even proposing a duet next time they're together, responding: "We should probably sing together at some point if we're ever in the same neighborhood again. Just sayin'," then adding: "love your new song!"
Fingers crossed… I'd love to see this one happen!