Exclusive interview with prolific English author Michael Morpurgo discussing his new book
By Gabrielle Pantera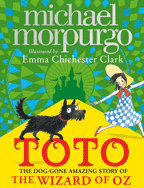 "Dorothy we know and love," says Toto: the Dog-Gone Amazing Story of The Wizard of Oz author Michael Morpurgo. "But her little dog Toto does little more than accompany her on her adventures. Providing her with comfort and company, we never know what he thinks of all that is going on. He just gets carried around a lot. So I thought, why not tell the story again, but through Toto's eyes."
In the book Toto is now a father. He tells his puppies the story of Oz from his perspective. He and his owner Dorothy hide in the house, but were whirled away by the tornado's powerful winds. All the characters from the original The Wizard of Oz are there, from a scarecrow with no brain, to a tin man with no heart, and a cowardly lion. Dorothy and Toto become friends with their new companions, but Dorothy and Toto want to go home. Their new friends want to help. They must find the Wizard of Oz.
"It was my publisher Ann-Janine Murtagh at Harper Collins and the illustrator and friend Emma Chichester-Clark who suggested I retell the story of The Wizard of Oz," says Morpurgo. It is a wonderful and magical tale, funny, frightening, and strange, but I always felt that there was one character who had little part to play in the story."
"I have known Emma Chichester-Clark a long time," says Morpurgo. "Toto was very much inspired by her very dear dog Plum, who actually had his own blog and very many fans. Emma has based her illustration of Toto on Plum. She is a good friend who I love working with. We have worked on a few books together now including Hansel and Gretel and Pinocchio."
For research, Morpurgo referred to the film. "There is the famous film with Judy Garland, which I'd always loved," says Morpurgo. "Strange, funny and frightening all at the same time, and with such memorable characters. I read the book too, by L Frank Baum, but I knew I wanted my story to be told from another viewpoint, that of Toto the dog."
Many of Morpurgo's books have been turned into plays, including The Amazing Story of Adolphus Tips, which readers may remember had a brief run at the Wallis Theater in Beverly Hills earlier this year. Adapted and directed by Emma Rice and the Kneehigh theatre group, it tells the true story of Operation Tiger, which took place during World War II at Slapton Sands in Devon, where 946 American soldiers were killed in a tragic accident during exercises for the D-Day landings. Another of Morpurgo's books, War Horse, was adapted by the National Theatre into a play in 2008 and has since toured the UK and the world and won several Tony Awards and been performed on Broadway and was turned into a 2011 movie directed by Steven Spielberg.
Morpurgo has written over 140 books. One of his favorites is, Where My Wellies Take Me, a collection of poetry woven around a story inspired by the holidays that his wife Clare spent in Devon as a child.
Morpurgo was born in London but makes his home in Devon. For more information on the author, visit Facebook and search for michaelmorpurgoofficial.
TOTO: The Dog-Gone Amazing Story of The Wizard of Oz. By Michael Morpurgo. Hardcover: 284 pages. Publisher: Harper Collins Children's Books. September 12th, 2017. Age Range: 7 and up. Grade Level: 2 to 7. Language: English. ISBN 9780008252564. $17.99